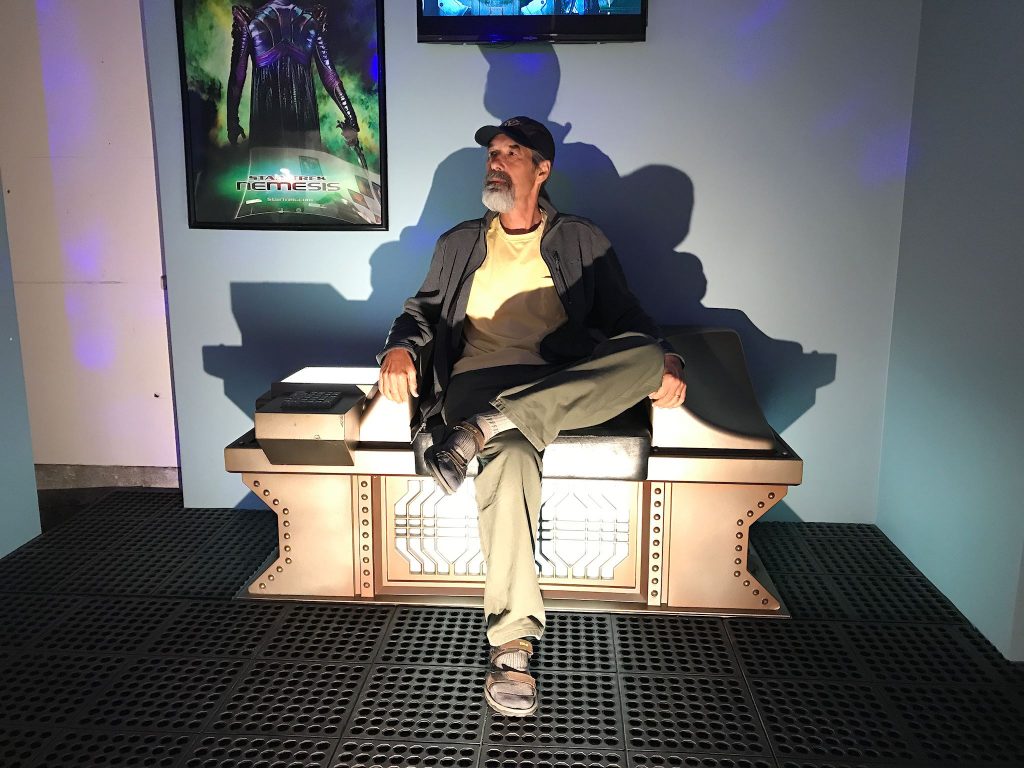 At one point in my life (or maybe a couple of them, to be honest) I've been a moderately serious Star Trek fan. Sue ultimately joined me in this enthusiasm, and I'm not ashamed to admit that one winter we binge-watched the entire Star Trek: Next Generation series on Netflix, in order, two episodes per night, from start to finish.
Anyway, to the point of this post…
Driving around in Drumheller, we saw a blue warehouse-ish building with a sign on it that said 'Trekcetera Museum: From the Wild West to the Final Frontier' and that caught my eye. Before we departed town, we stopped in, not sure what to expect but fully prepared to settle for a possibly kitschy collection of Star Trek collectibles and a little nerdy reminiscing. As we pulled in, co-owner Devan had just opened the museum and was on his way to the post office, but he took us inside to sell us our admission tickets and introduce us to partner and museum curator Michael.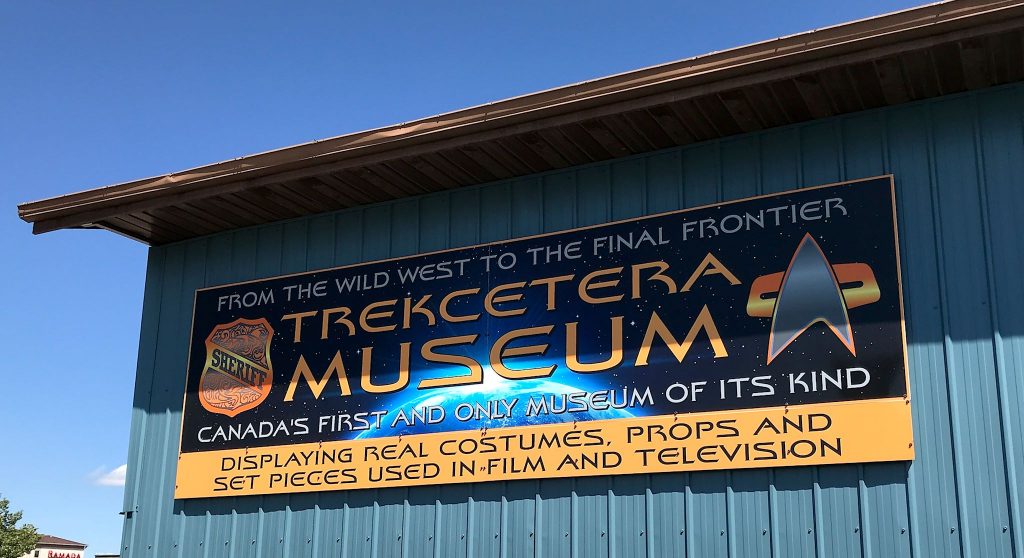 We were immediately impressed with the care that had gone into reconstructing the interior of this former warehouse before we even saw the first exhibits. Devan and Michael were most welcoming, and their enthusiasm and pride in the collection was evident from those first moments.
We entered the exhibit area, and we were just totally blown away. These were not kitschy collectibles in any way – every article was an actual costume, prop, or set piece that had appeared on screen, in film or on television. The first half of the collection featured TV series and films which had been filmed on location in Alberta or with which Michael had a personal connection. Hell on Wheels, The Thunderbirds, Superman, Brokeback Mountain, Titanic, Harry Potter, Shanghai Noon and many more are included.
The second half is the Star Trek collection. Michael and Devan have an arrangement with CBS, owners of the Star Trek franchise, to acquire and display these costumes and artifacts. I'll have to let the photos speak for themselves – it was just so much fun to see and experience these displays. A few of our photos are below, and there is a complete set in a flickr album (link at the bottom of this post). The whole Star Trek universe is covered – Original Series, Next Generation, Deep Space 9, Voyager, and Enterprise (nothing from Discovery, yet!) – and displays from several of the movies.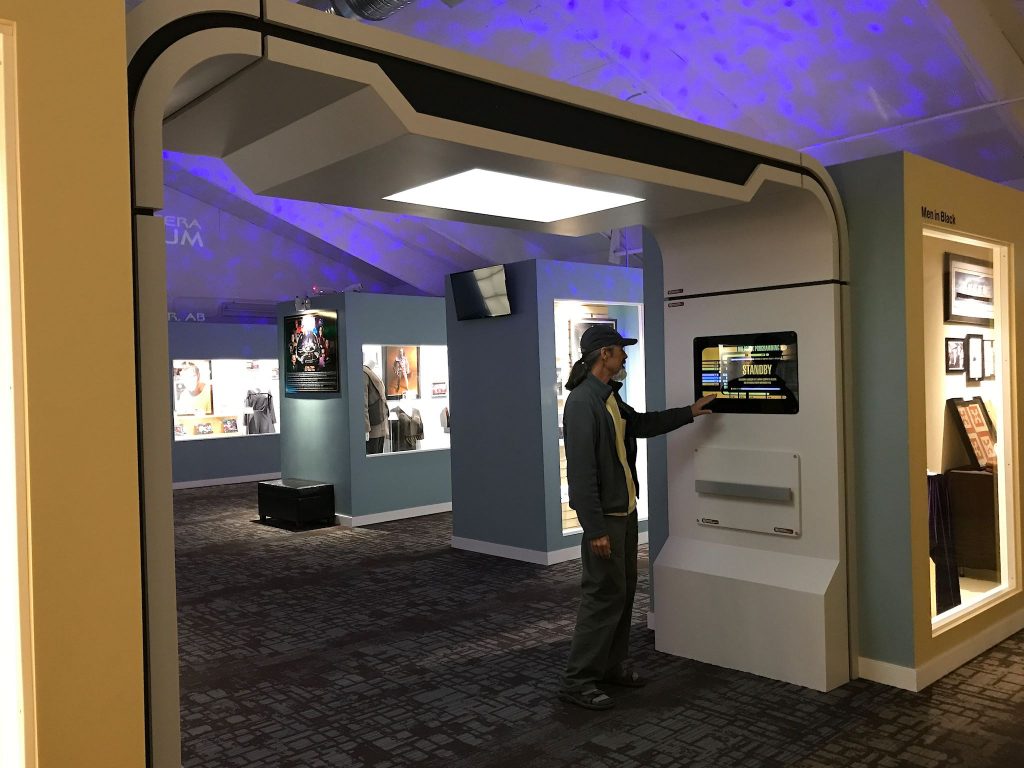 A particularly fun display for us was the case that included the original script from The Trouble with Tribbles, and an ACTUAL TRIBBLE, given that we had just days before used a reference to this Original Series episode in a blog post on Saskatoon – it makes that post seem almost prescient, eh?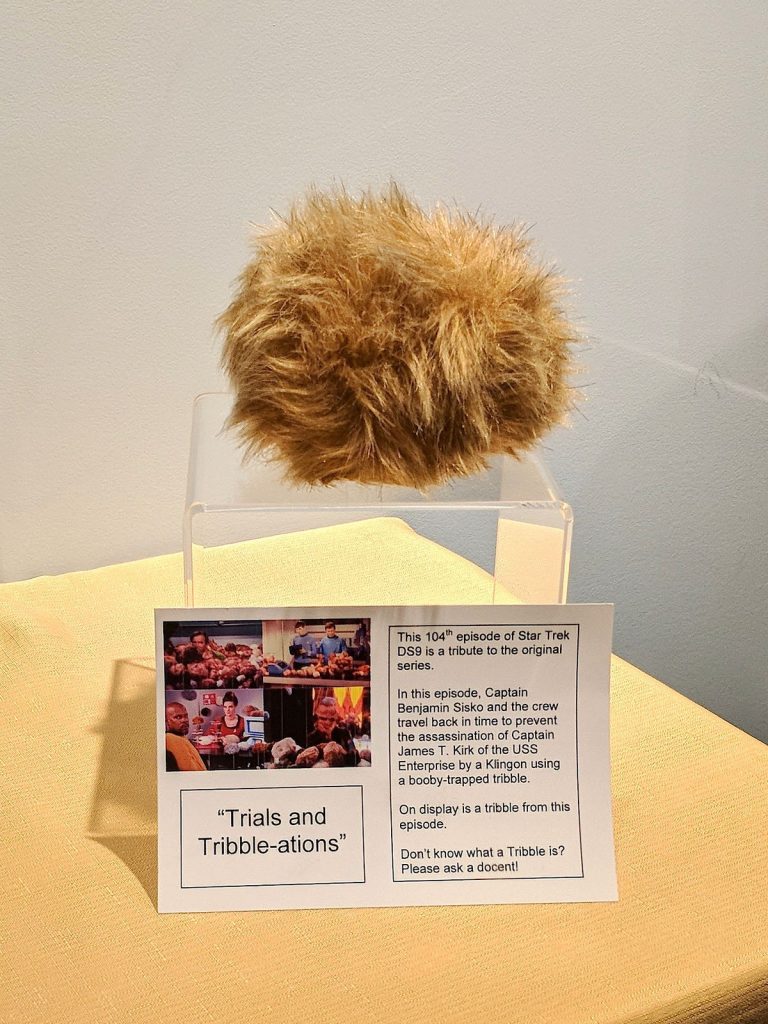 Throughout our self-guided tour, Michael would appear periodically with particular props and related anecdotes to expand on the exhibit we were then viewing – reproduction tableware from the Titanic movie set that exactly replicated the original china; I got to try a STNG phaser with working setting selector (from stun to lethal) and firing button; we held gold coins from Pirates of the Caribbean; we learned why Tom Cruise refused to wear his 7th Cavalry helmet in The Last Samurai.
Sue disappeared for a time and I thought she was using the washroom, but she claims she programmed the holodeck for a session with the Rolling Stones where she sat in as a second drummer alongside Charlie, and that he winked at her as they counted in together for Honky Tonk Woman. I'm not so sure, but I have learned there are times when it's not a good idea to question my lovely wife…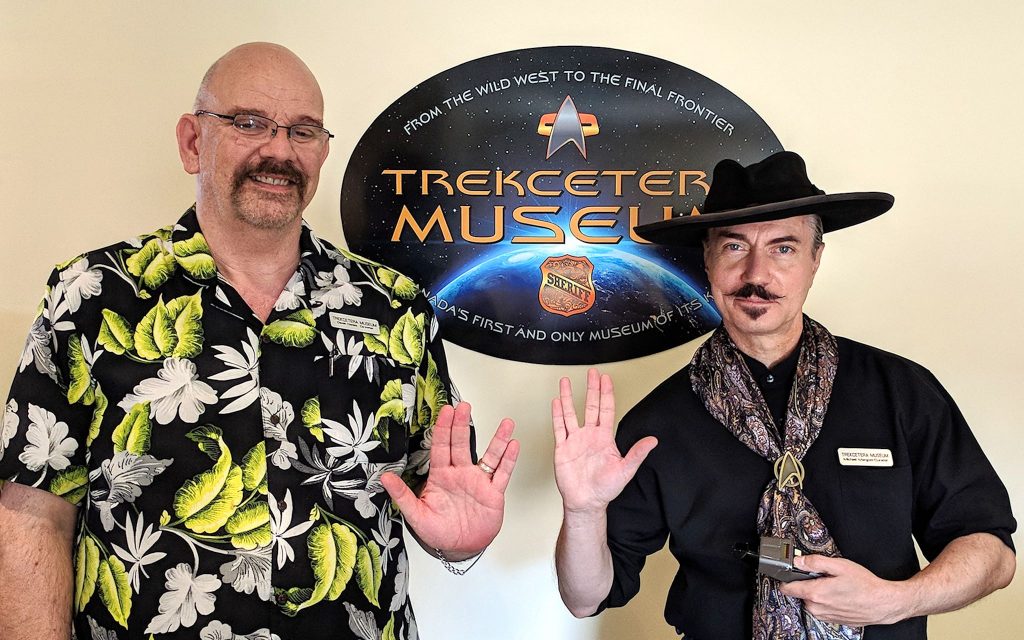 One thing I have no questions about is recommending a visit to this museum to any fans of movies and television – you'll find it worthwhile – and if you've ever been a Star Trek fan, well, you'll be in some kind of heaven. Thank you, Devan and Michael!
Check the flickr album for all of our Trekcetera photos.