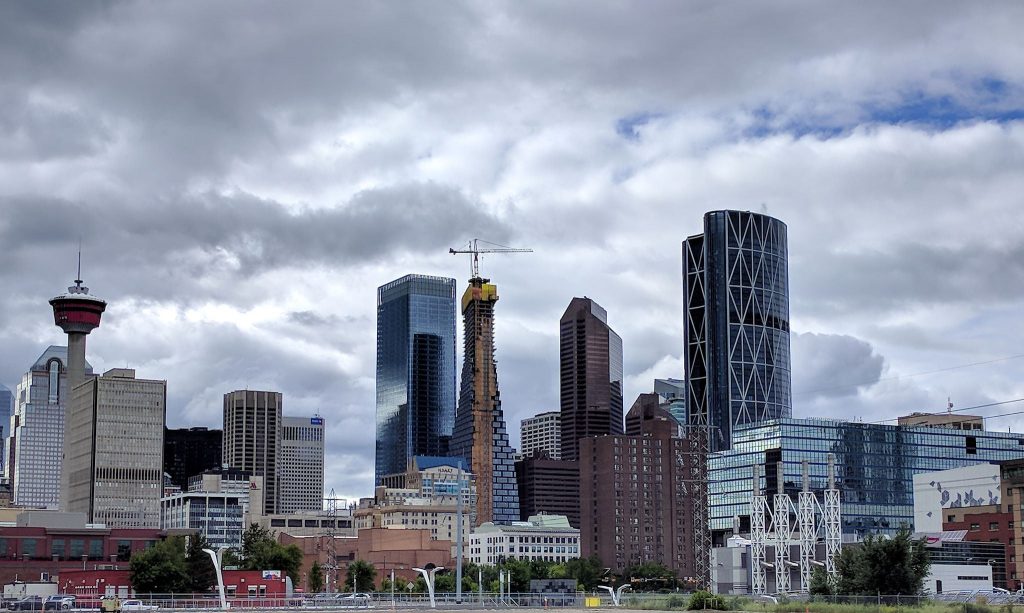 Calgary (rhymes with strawberry) is one of the fastest growing cities in Canada, with a current population of 1.3 million. It's a diverse city with 60% of the population of European descent and 36% 'visible minority' (non-white, non-aboriginal), the remainder being indigenous/aboriginal/First Nation. A former Olympic city, one of the largest in western Canada and a hub for the region's agriculture, mining and oil activities, this should be an interesting place to explore.
We knew we wanted to visit Studio Bell, site of the National Music Centre and the Canadian Music Hall of Fame. We also checked our festival list and assumed we'd be able to find some interesting event. Well, dontcha know, we would be in Calgary for their biggest event of the year – The Calgary Stampede – billed as 'The Greatest Outdoor Show on Earth.' The Stampede attracts 1.3 million visitors from outside the city each year.
With our recently boosted confidence in urban camping, we set a course to arrive just a couple of days before the start of the Stampede.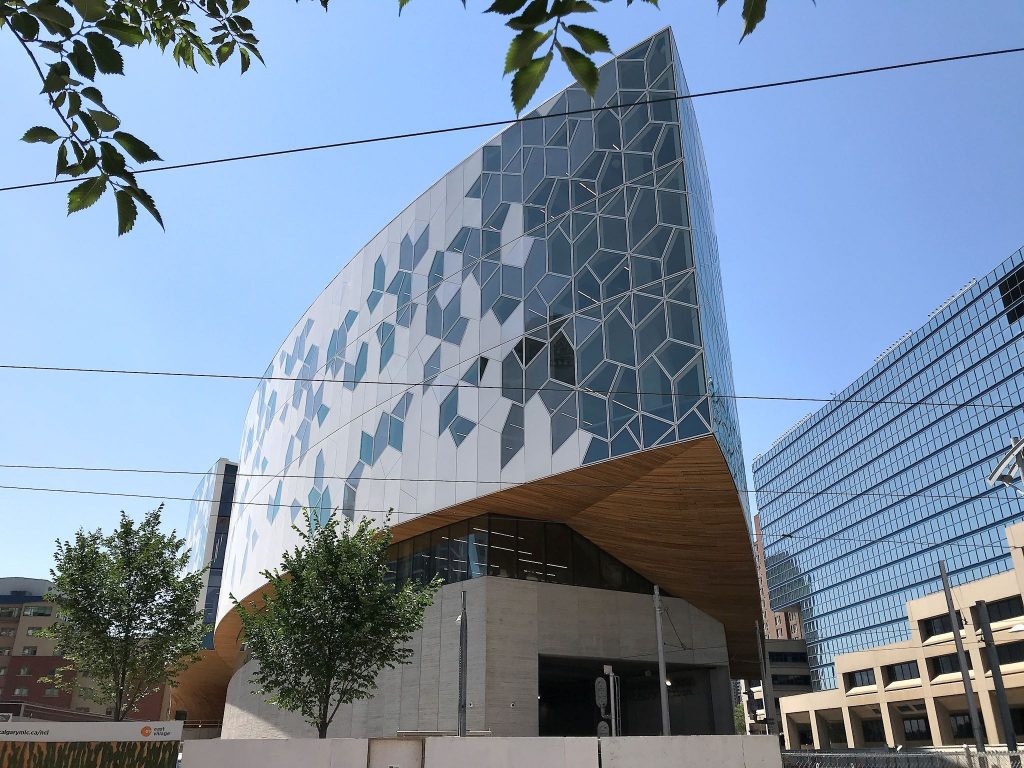 We pulled into downtown Calgary at about noon on a weekday and were fortunate to find RV-sized parallel parking on a side street within sight of the National Music Centre (NMC). Ha! This is going to be easy!
The NMC was the highlight of our visit to Calgary. We joined a tour which provided an orientation to the museum and an overview of the 'top 10' in the collection. The biggest item is the King Eddy Hotel, one of Calgary's oldest bars (ca. 1905), with a varied history that included a stretch as a historic blues bar in the 1970's and eventual abandonment. It was recently acquired by the NMC, rebuilt to its original structure and condition, and integrated into the new Studio Bell building.
The most expensive item in the collection is the piano Elton John used to write over 100 songs, inscribed by Elton and Bernie Taupin. Of course my fave was the custom drum kit used by Neil Peart to re-record the theme from 'Hockey Night in Canada.' Doug ogled the custom amp used by Randy Bachman to create the groundbreaking guitar sounds in American Woman. The craziest item was the Kimball Theatre Organ. At 64 feet long, with 3 keyboards, it was used to provide music and sound effects during silent movies. We were treated to a demonstration by a young keyboardist who played a medley of pieces from silent and modern day movies from the Perils of Pauline to the Wizard of Oz, Jaws and Star Wars.

The NMC included many interactive exhibits. Visitors could sample many instruments as well as play along (with headphones) to simple recordings while kids (of all sizes) could play home-made instruments. A private (thankfully) sound room allowed the user to test their singing ability (tone and rhythm) by singing along to a song karaoke style, with a computerized analysis. Doug scored professional while I came in just under beginner. *SIGH* The top floor of the museum was reserved for the 3 Canadian Halls of Fame: Music, Songwriters, and Country Music. There we saw exhibits of our favorite Canadian musicians including Neil Young, Joni Mitchell and Leonard Cohen. A special room was set aside for 2018 inductees Barenaked Ladies.
After our NMC visit, we walked around the city a bit and realized we were just 2 blocks from Stampede Park. Chatting with some workers setting up for the big event, we asked about parking during the Stampede. RV parking was $50/day. And overnight parking was not allowed. Hmm. Not so easy after all! This is going to require another solution.
We found the Grey Eagle Casino, about 10 km (6 miles) from downtown. They have an open field reserved for large event parking that they offer up as overnight RV parking when there are no major events or concerts at the casino. There were no events. Great! We stayed at the Grey Eagle and commuted downtown on our bicycles via the impressive and convenient Elbow River Pathway, a multi-use path along the river.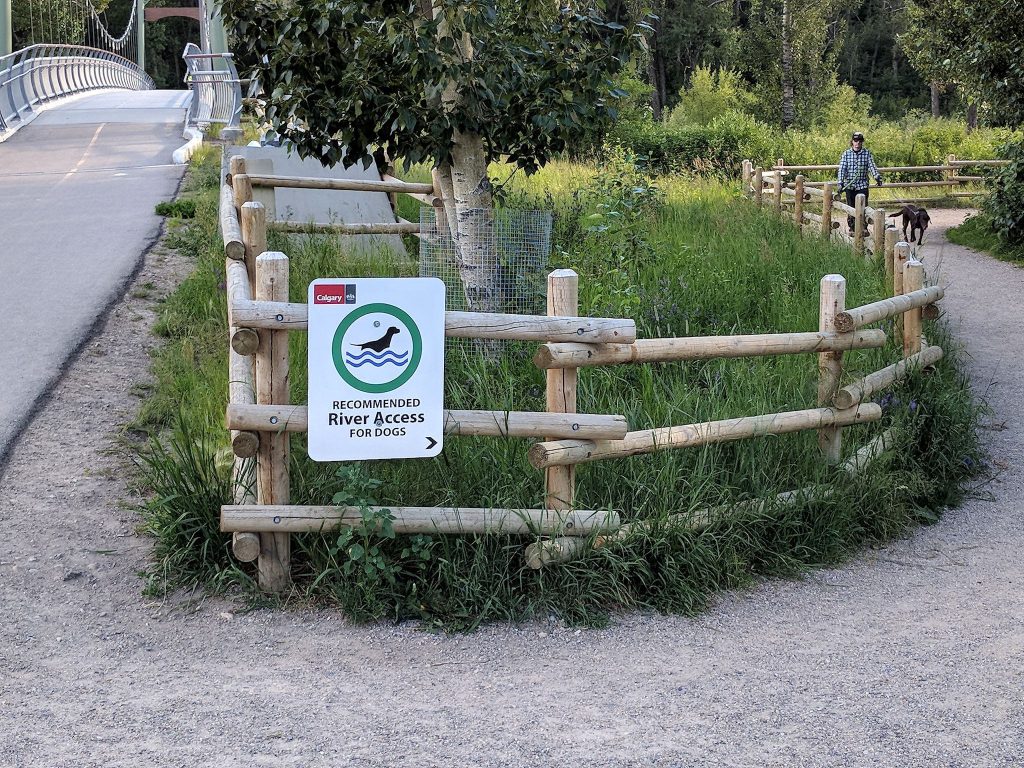 The skyscrapers of downtown Calgary were an interesting backdrop for the Calgary Stampede Opening Day Parade. As one might expect, there was a significant horse component to the parade – ranging from miniatures pulling carts to teams of draft horses pulling heavy wagons. It wouldn't be a parade without the requisite marching bands, floats, tractors and loud trucks. It was interesting to see the number of ethnic floats – Chinese, Thai, Indian, Arab – celebrating the diversity of the city for which it is well known. Then there was the Scottish marching band, complete with bagpipes and kilts, all wearing cowboy hats. And every 20 minutes or so, along came trios of 'costumed' city trucks – street sweepers, whose presence was closely related to that above-mentioned horse component.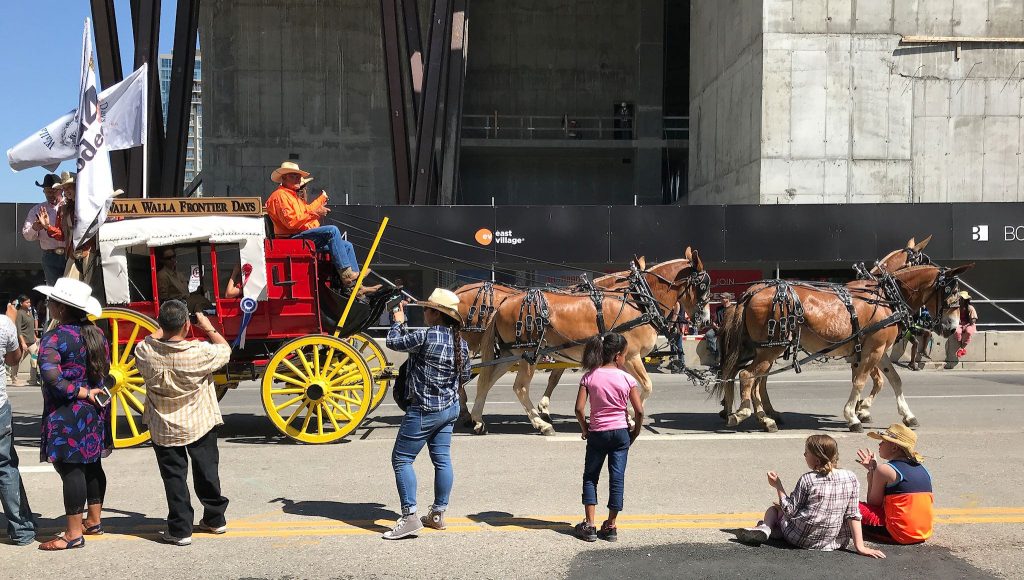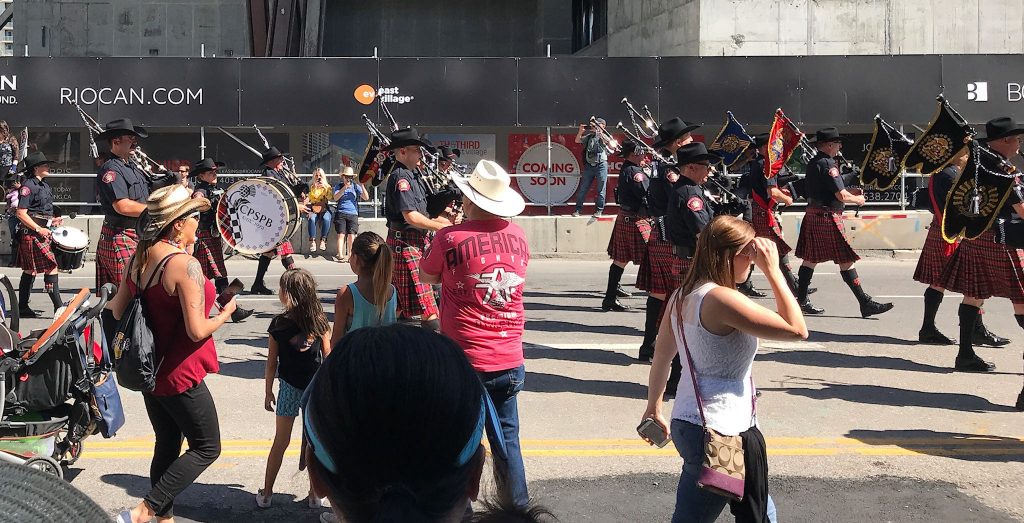 The Stampede itself promised cowboys, ag-tivities and (country) music all day. It certainly lived up to those expectations! We met another adventurous RV couple, Paul and Roxana from Red Deer, over lunch. We explored the animal building where we saw show animals of many types, including  all kinds of horses. We met a 250 kg (600 pound) pig with 8 newborn piglets in a 'maternity pen' specially designed to prevent mom from accidentally rolling over her 500 gram (1 pound) offspring. And we could see the attention and care the owners, especially including the young ones, devoted to their animals.
A fortunate combination of timing and heat brought us into the (air-conditioned) arena for the Heavy Horse Show. Heavy horses include Clydesdales, Percherons, Belgians, and Shires – the large, strong horses bred for farm labor (plowing, pulling loads, etc.) as opposed to saddling and riding. Owners of these show horses spare no expense nor effort for these competitions. Horses are selected and trained, then judged for stride (coordinated stride for teams), demeanor, ability to follow instructions like gallop, walk, back up, turn left all while pulling a wagon. We were impressed by the reverence and love showed by the horses' handlers for these gorgeous 900 kg (2,000 pound) animals.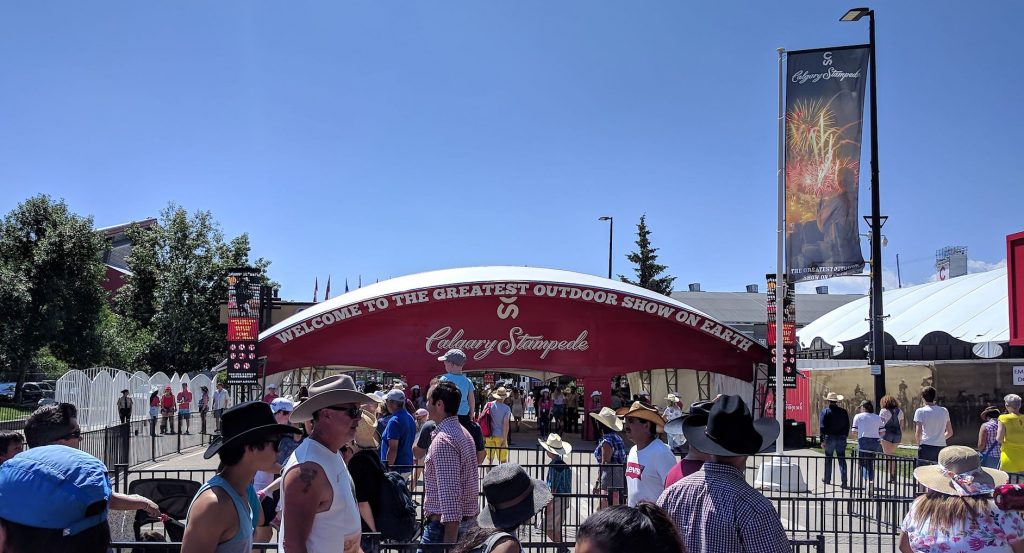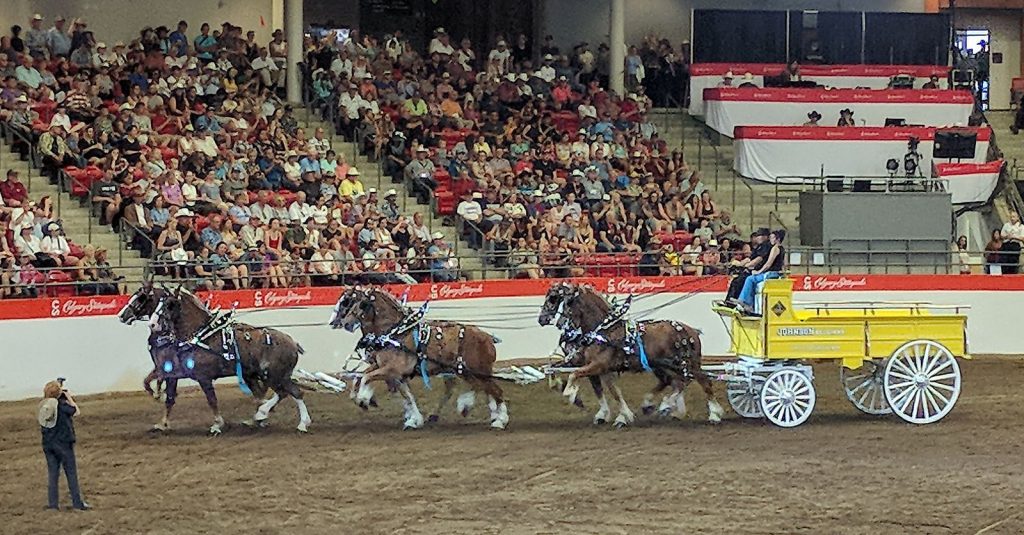 And yes, there was country music everywhere!
Calgary was fun. Although everyone's a cowboy during the Stampede, our impression is that the city is vibrant and youthful with many active downtown residential neighborhoods. People were out and about. Bicycles were everywhere. We're glad we ventured into the big city.

For anyone who's interested, more National Music Center, Grey Eagle Casino, Stampede parade, Calgary Stampede pix…