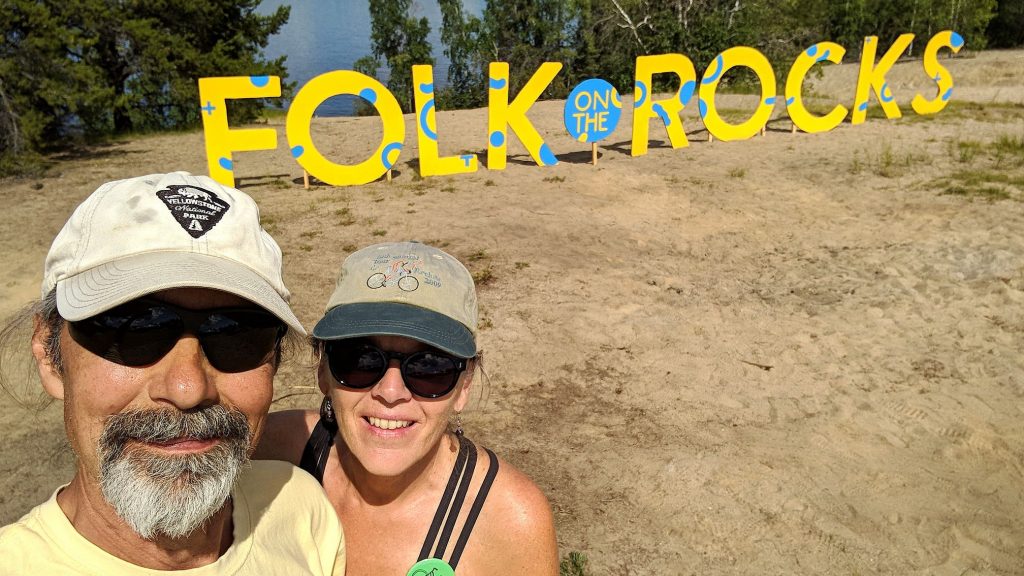 When we first considered exploring Canada this year, I looked at the map. I had to use a big screen – Canada's a big place! Just pondering the sheer size, I noticed a dot on the map at the end of a road to the north on the edge of a huge lake: Yellowknife, in the Northwest Territories. It was all by itself and way up there. Curious, I googled it. It is the northernmost city in Canada. You get there on the northernmost paved road in Canada. It is the home of Folk on the Rocks, the 'largest music festival under the midnight sun.' We wanted to explore the Canadian Rockies in August/September. If we went to Yellowknife, the timing of the festival in late July would be perfect! We put a pushpin on the map and I made our only reservation of the summer at the campground next door to the festival grounds. We're very glad we did!
Don't let the name (FOTR) fool you. It could be the Canadian Rock Soul Funk Country Indigenous Rainbow on the Rocks Festival, but Folk on the Rocks is easier to put on a poster. And the rocks? Yellowknife is on the Canadian Shield, so rocks define the place.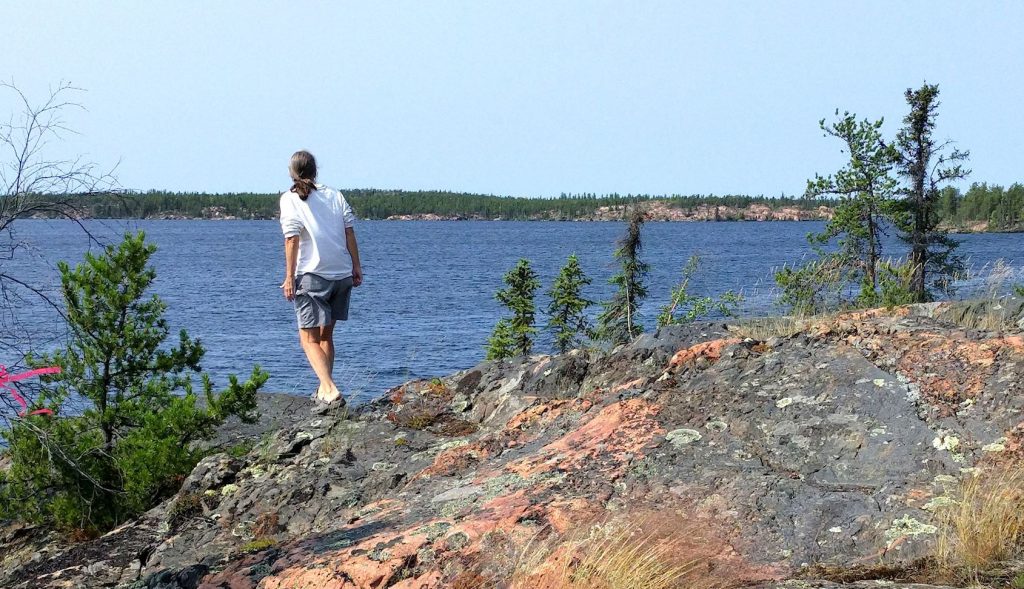 FOTR is held at a beach on Long Lake, on lands of the Dene First Nation, at an attractive park with 5 performance stages (4 sort of intimately-sized, the 5th very large), with sandy dance spaces and amazing views of the lake. Including warmup acts held at Somba K'e Park in downtown Yellowknife on Friday afternoon, there were 30 hours of an absolutely beautiful mix of music. There were food trucks, vendors selling a variety of items and a merch tent.  The artists hailed from the Maritimes, southern Ontario, British Columbia, Yukon, Nunavut  and every place in between.
The festival was 2 km (just over a mile) and a few minutes by bike from the campground. Each day we'd get up, make ourselves a pot of coffee, take care of a few things at camp, have a leisurely breakfast, ride over to the festival, lock up the bikes, and set up our chairs so we'd have a good view of the main stage once the crowd arrived.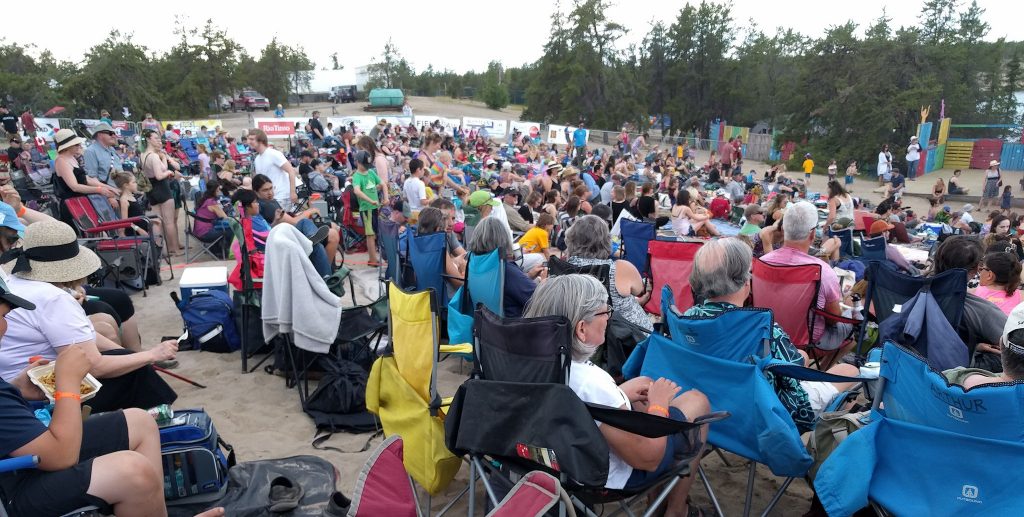 Then we'd move from stage to stage, trying to see everybody and try everything, to get a feel for what we'd want to see more of. Finally, we tried to come up with our top 3 list. And failed. So we argued, cajoled, negotiated and bribed each other (sorry, can't say) to come up with our top 5 and some honorable mentions. Here we go: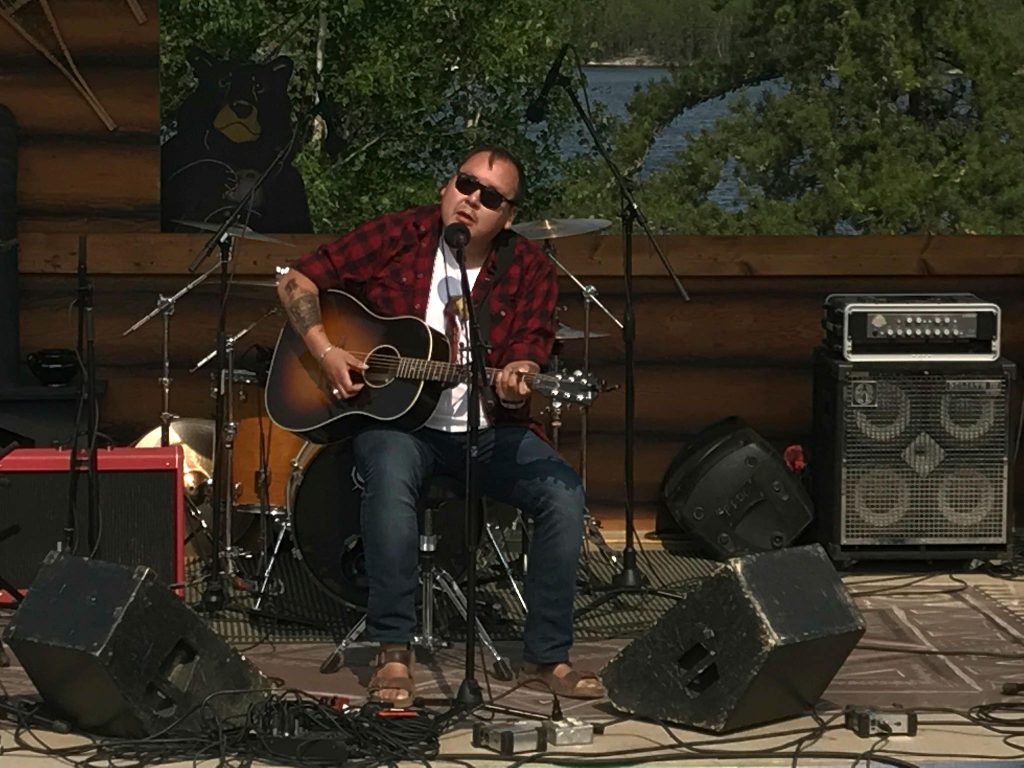 William Prince from the Peguis First Nation of Winnipeg is a singer/ songwriter, sharing his emotionally charged songs through his powerful baritone voice accompanied by an elegant guitar style. We saw two of his sets and were pleased he reprised his hit song Breathless, with snippets of growing up in northern Canada and hearing Elvis under the northern lights.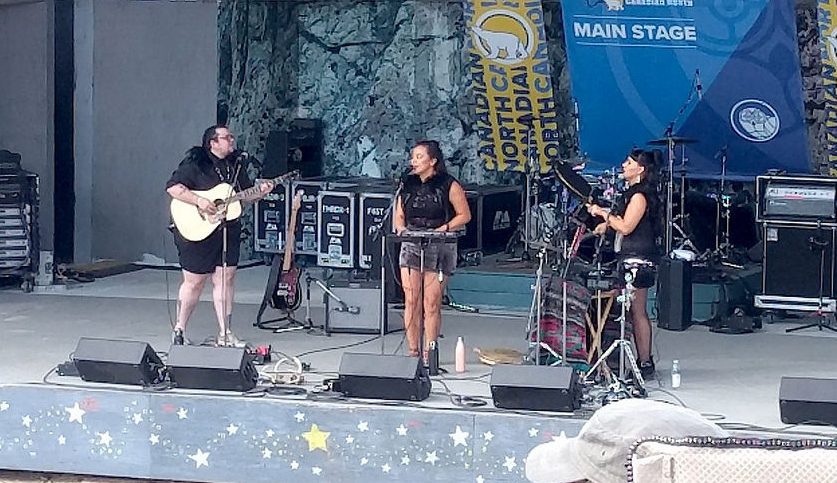 Quantum Tangle includes Greyson Gritt, Tiffany Ayalik and Kayley Inuksuk Mackay, all from Yellowknife. They blend blues riffs, Inuit-style throat singing, and original melodies backed by a solid groove, much of their work focused on raising social consciousness and empowering marginalized groups. They got our attention when they described the changes to their native culture through the eyes of their grandmothers, who lived through massive changes over the past 50 years – grown up in igloos, watched a moon landing, and now living in apartments and staying in touch on their cell phones. They also provided a hilarious explanation of Inuit kissing, amplified.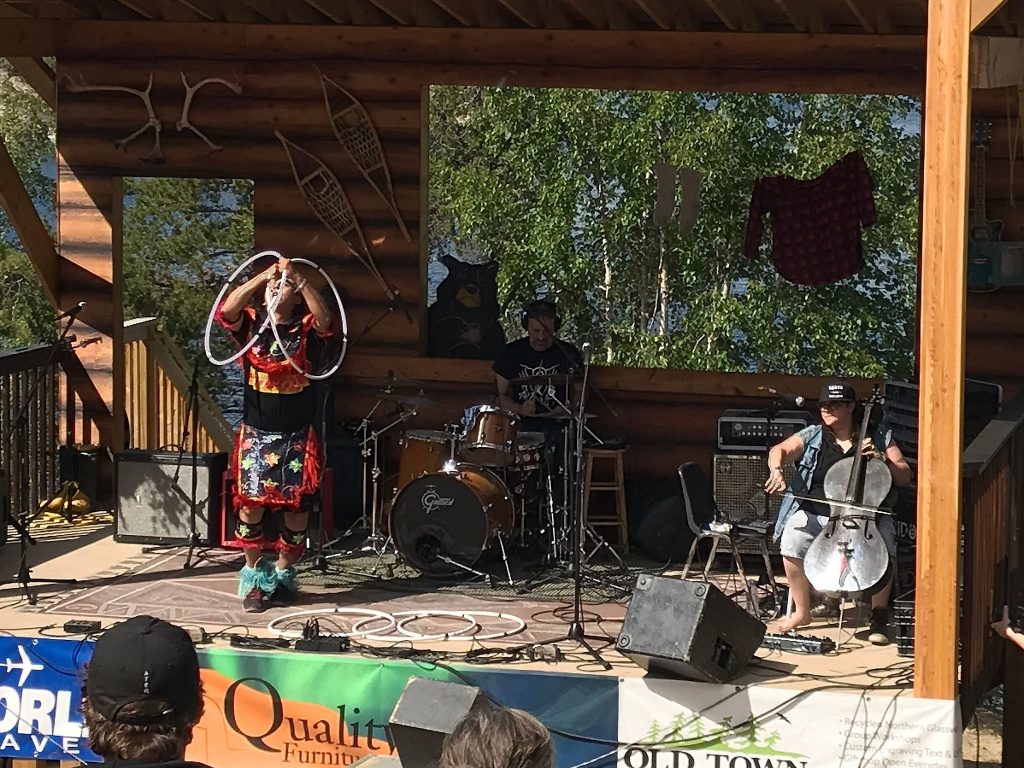 Cris Derksen grew up in north Alberta with mixed Cree/Mennonite heritage. She is a classically trained cellist, formerly principal cellist with the UBC Symphony Orchestra. She currently performs a fusion of classical, indigenous and avant-garde styles using electronics to create layers of music with her cello to which she adds melodies reflecting a mix of classic and indigenous sounds. At the festival, she was accompanied by drums to complement the groove and Anishinaabe Hoop Dancer Nimkii Osawamick who narrates the music visually, creating artistic figures with dance incorporating small hoops, a spectacular art that is hard to describe with words.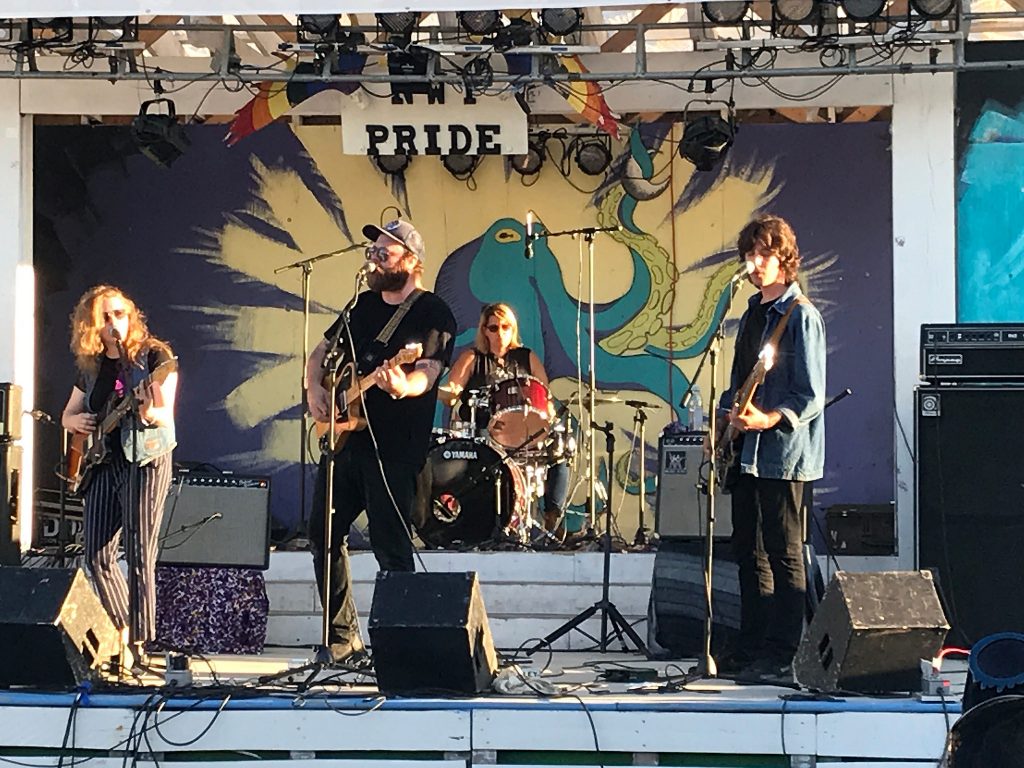 The Highest Order from Toronto bill themselves as psychedelic country. They feature ripping vocals, brilliant guitar riffs, super twangy telecaster solos and a delightful, foot-stomping groove.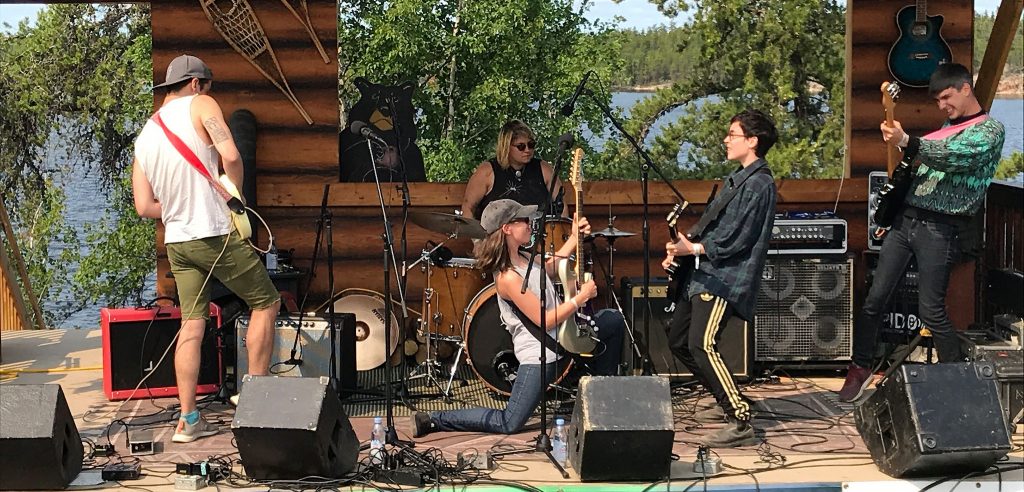 Partner is from New Brunswick and we went to all three of their sets. We loved them! They are a hard-rocking and outrageously funny band featuring Lucy Niles on vocals and rhythm guitar and Josee Caron on vocals and lead guitar playing self-penned teen angst songs with a stoner lesbian twist. Their hit song Everybody Knows narrates a trip to the grocery store, needing chips after 13 bong hits. The matinee version of Hot Spot  was edited a bit to reach out and pat your… cat. We'll be watching them continue to grow and evolve as they gain more recognition. The world needs to hear more from these talented musicians, and our bet is we will.

Honorable mentions and shout-outs: Louis and Leanne Goose's Mackenzie Delta country and western band features a father/daughter duo who easily fit into the Nashville scene, even though they hail from the Beaufort Sea. Major Funk and the Employment from Whitehorse, Yukon kept the crowd dancing in the sand to their infectious groove, singing in both French and English. Klo Pelgag and her band from Quebec offered up a rock opera in French. Andrea Bettger, a phenomenal fiddler from right here in Yellowknife, experiments with classical, jazz, gypsy and electronics for a unique sound.
We don't get to hear much from Canadian artists in the US until they become major international stars. We're fortunate to have heard so much of this great music. We encourage you to check these artists out on Google or YouTube. You're in for a treat!
For anyone who's interested, more FOTR and Fred Henne Territorial Park pix here…