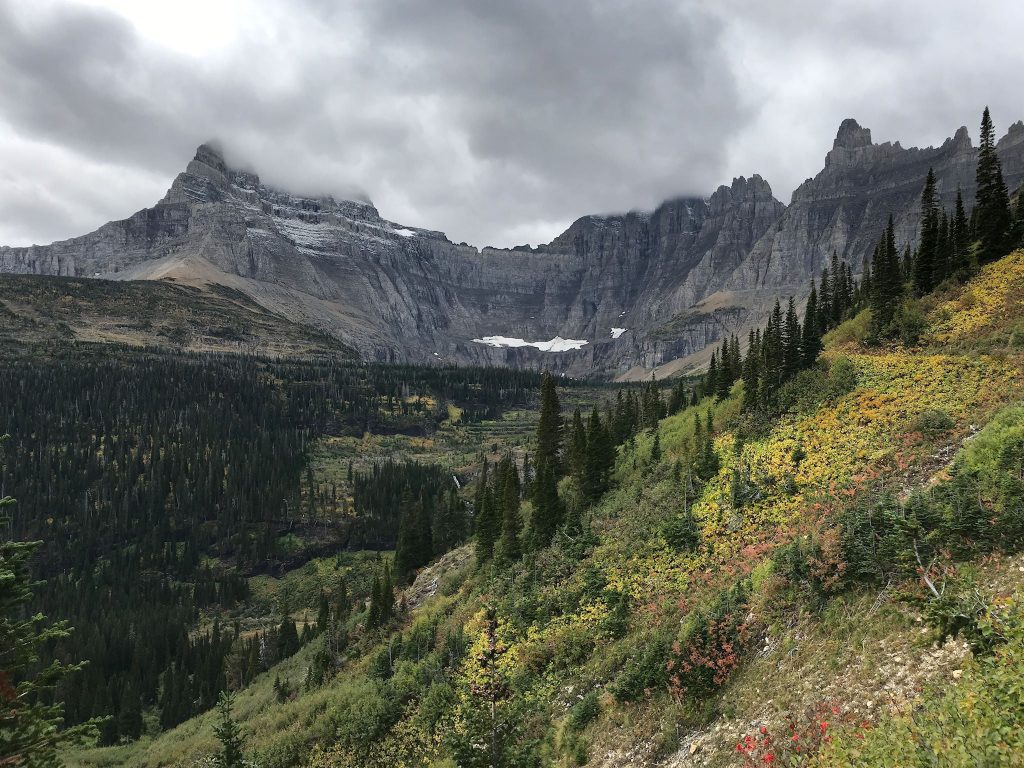 A mere 14 months ago, we were rejoicing over our time in Glacier (US) National Park as we explored the west side of the park from the Apgar/Lake McDonald area. (One month ago we were in Glacier (Canada) National Park – different place…) As with most of the places we've been, we left Glacier (US) (and Glacier (Canada), too!) with lists of things to see and trails to hike on future visits. As we crossed into the US from Waterton NP at Chief Mountain Port of Entry, we were conveniently positioned to visit the east side of Glacier NP. For no specific reason other than we had to pick one area, we headed for the Many Glacier area.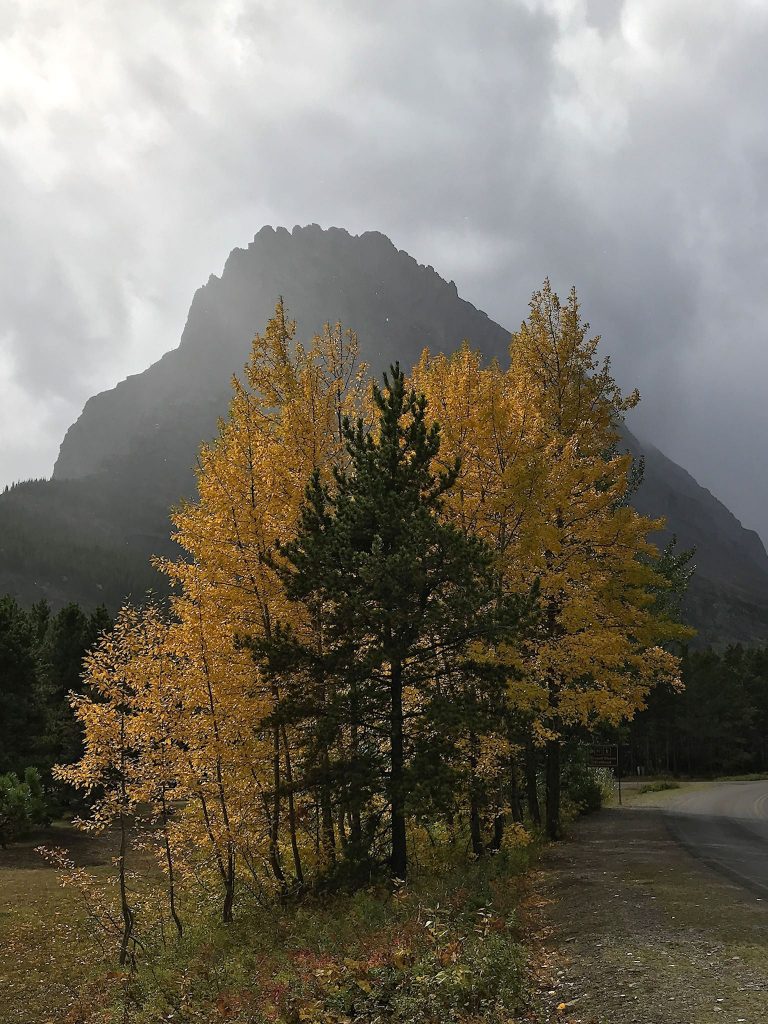 Visiting later in the season this year – late September – Glacier was a whole different experience. There are pros and cons to late season visits. Concessions – stores, hotels, restaurants, boat/bike rentals, ice cream stands – are closed for the season. The shuttle buses run less frequently, and a few routes are closed which eliminates a few hiking options. On the other hand, it was easy to get a campsite, and it was super quiet. It seemed like a majority of our fellow campers went to bed early so they could get up early to go hiking. We shared the trails, including the 'most popular' trails, with tens of people, not hundreds (though the weather may have had something to do with that, as well…). It was cooler, too, and more comfortable for hiking (though we missed our apres-hike swims in Lake McDonald!). Interesting, and both a pro and a con, bears preparing for winter come down from the mountains to feed on the ripe berries – they're fun to watch (from a distance), yet some trails are closed to allow them to feed without human interference. On balance, we really like late season visits.
Regarding the bears, we saw our first grizzly bears! They were a comfortable, fuzzy-even-in-the-zoom-lens distance away. Mom and two cubs munching away on berries. We also saw 4 black bears, including one who welcomed us into our campground from a much less comfortable distance (no photo of that one, though).
With a forecast for cool and cloudy, we opted to hike out to Ptarmigan Lake and up to Ptarmigan Tunnel. Most of the trail would be below treeline, and the points of interest would be close by. Ha! Yes, most of the trail wound along the Ptarmigan Creek Valley among the trees and colorful deep burgundy and yellow berry hedges, popping out above treeline at Ptarmigan Lake. We looked up to see the trail up the Ptarmigan Wall – a trio of giant switchbacks that swept back and forth and back again across the wide open wall and then simply stopped – just as the wind kicked up and it started to  rain. Onward! That was a good decision. The Tunnel starts where we observed the trail to vanish. It is a 250-foot (76 m) long passage through the mountain ridge, built to help get horses and hikers across the very steep pass. Outside the northern entrance of the tunnel, we were treated to a lifetime-top-three rainbow and an unbelievable view of the  Belly River Valley beyond. What wind? What rain?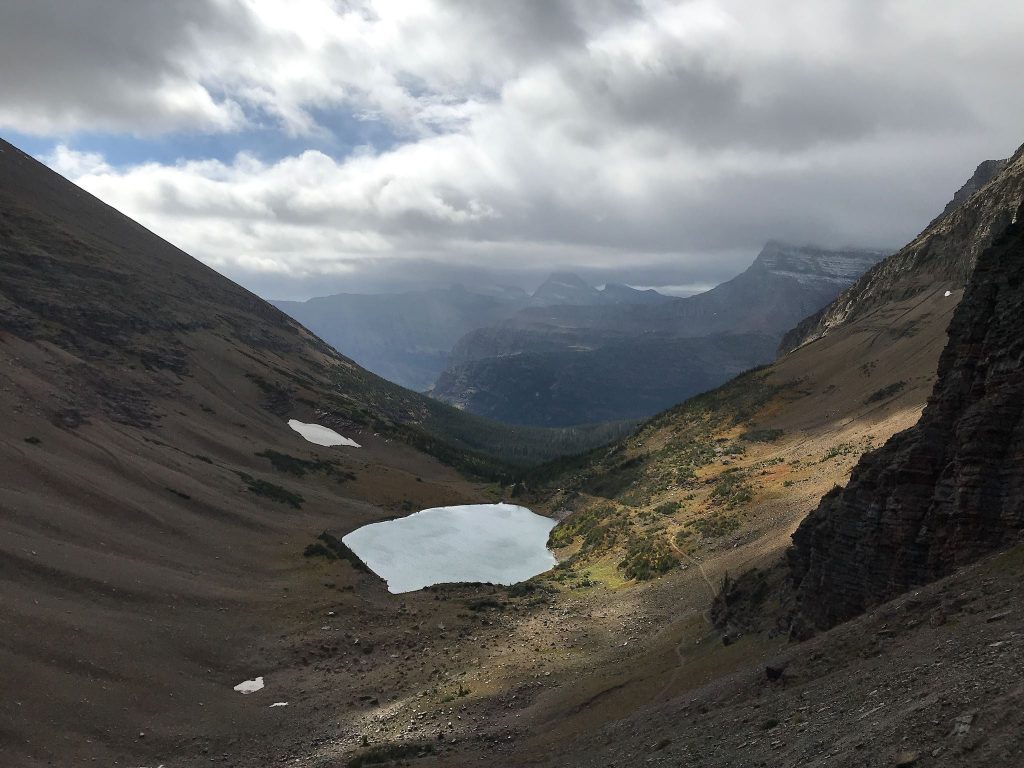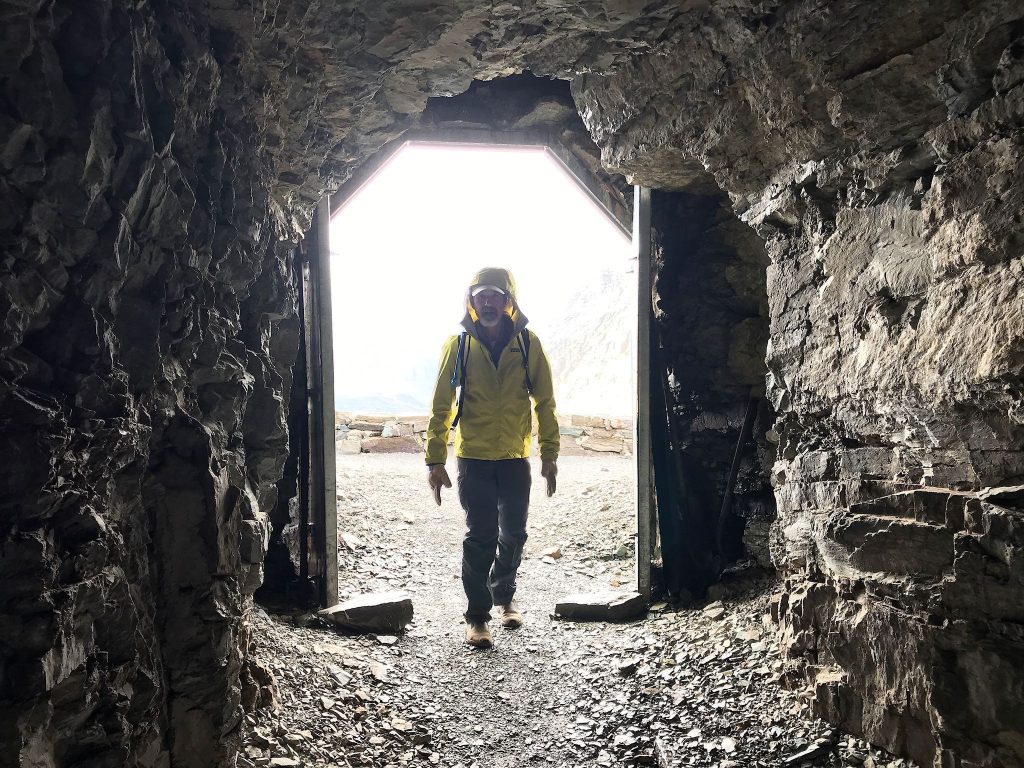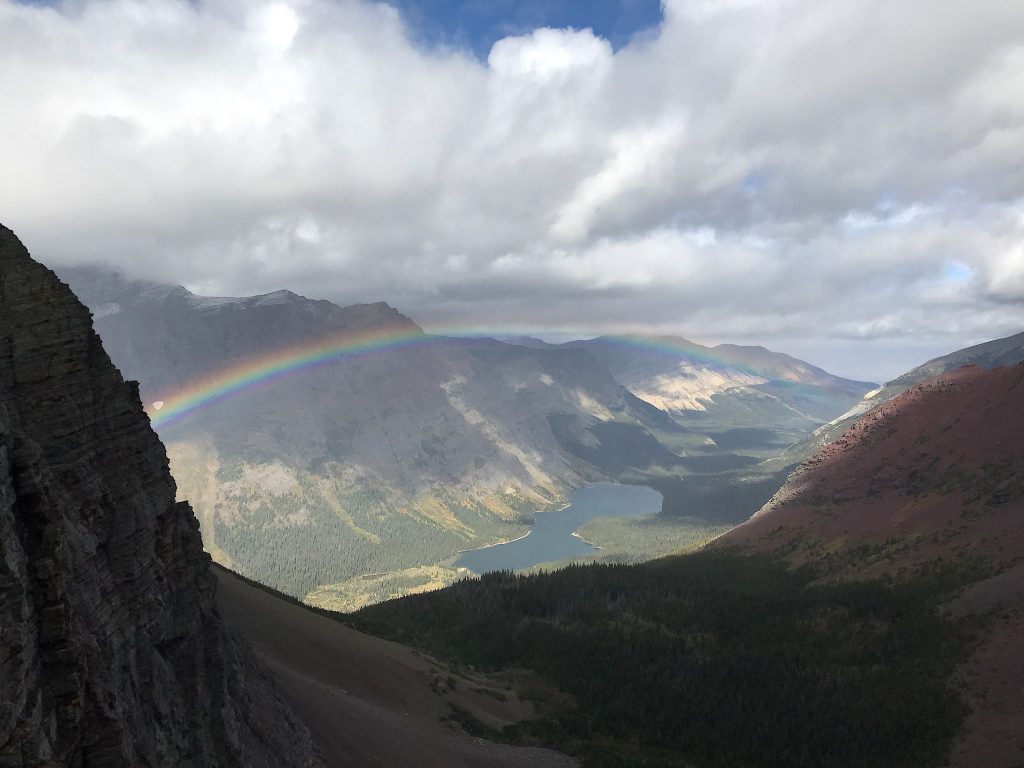 We made our way back into the protective trees and headed back toward camp. Halfway down, once again warm and dry (and ahead of plan!), we added a side trip to Iceberg Lake. Situated at the bottom of an amphitheater created by the 3,000 foot (900 m) vertical cliffs of Mount Wilbur and Iceberg Peak, the clear, deep turquoise lake is host to mini-icebergs through late July/early August. 'Berg-free at the time of our visit, the lake is still stunning in its beauty.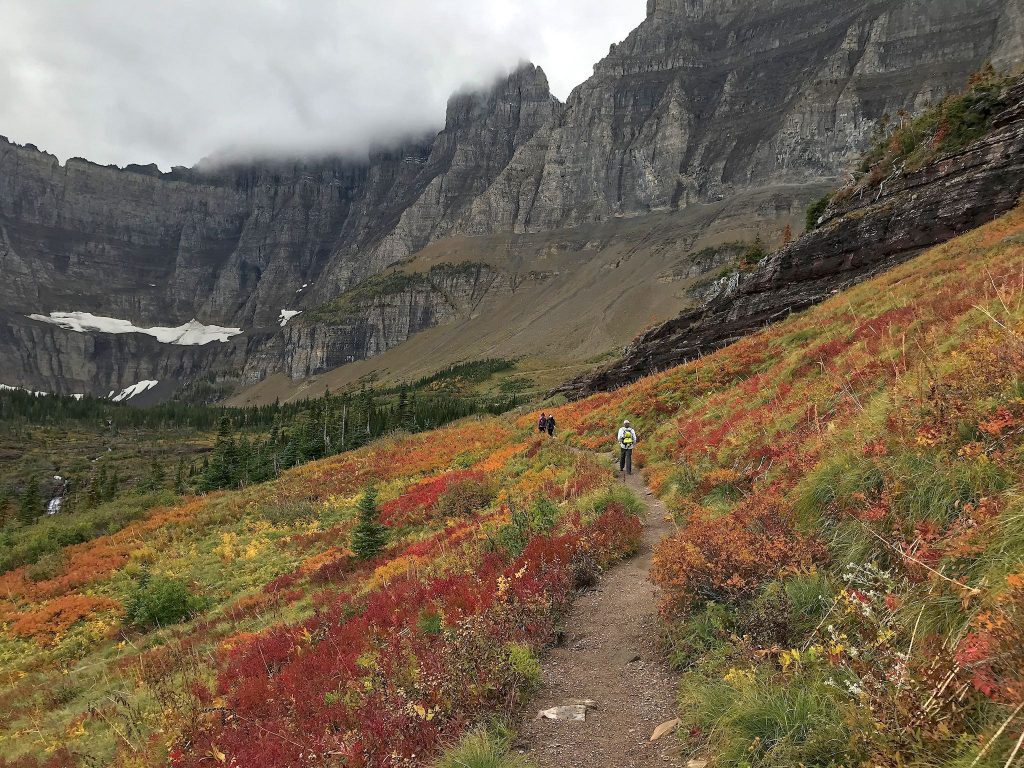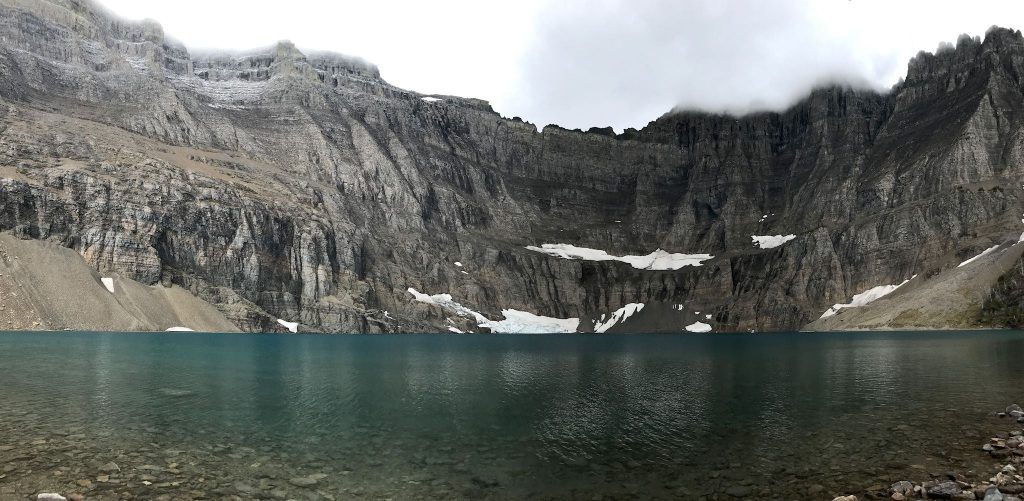 We planned the Grinnell Glacier hike for a day when the forecast was mostly sunny and 20% chance of rain. Hmmm, not sure if it technically rained, but whatever that was, it was plenty wet and it was going on more like 80% of the time… The day alternated kind-gentle-sprinkles with brief pretty aggressive-bordering-on-actual-rain-sprinkles, interrupted by very brief rays of sun penetrating through the low-hanging clouds. We were comfortable, so carried on past Swiftcurrent Lake, Lake Josephine and Grinelle Lake. Doug displayed a surprising moment of optimism when he cheerfully noted the weather was likely keeping the late-season hiking crowd down. They don't know what they missed…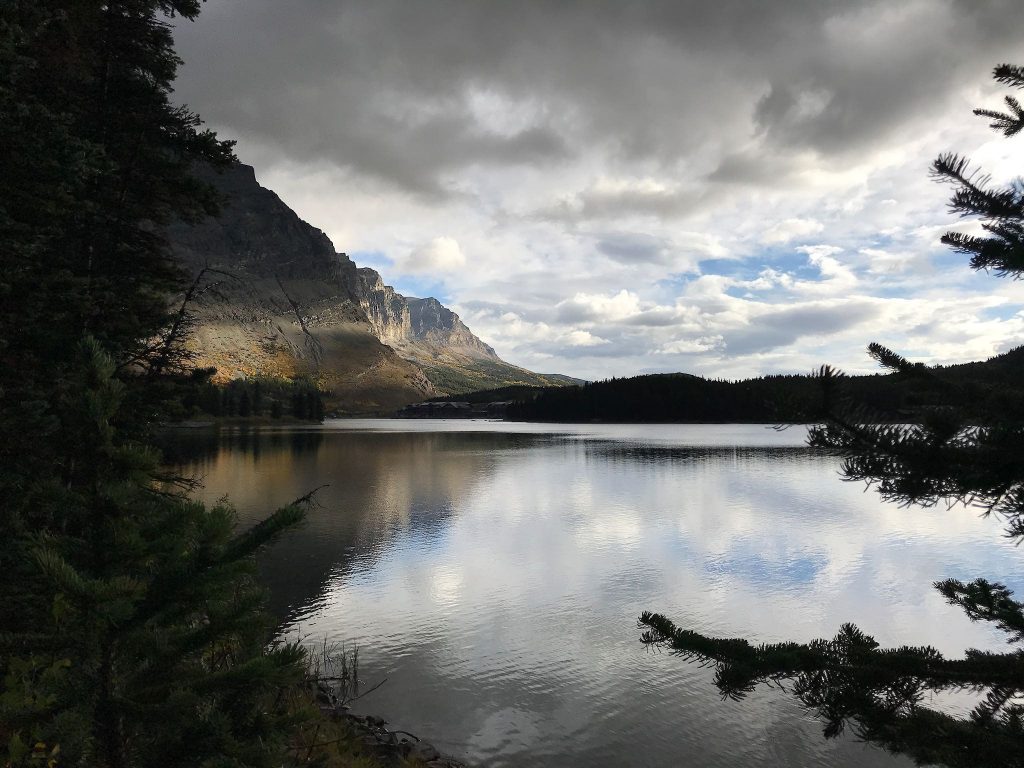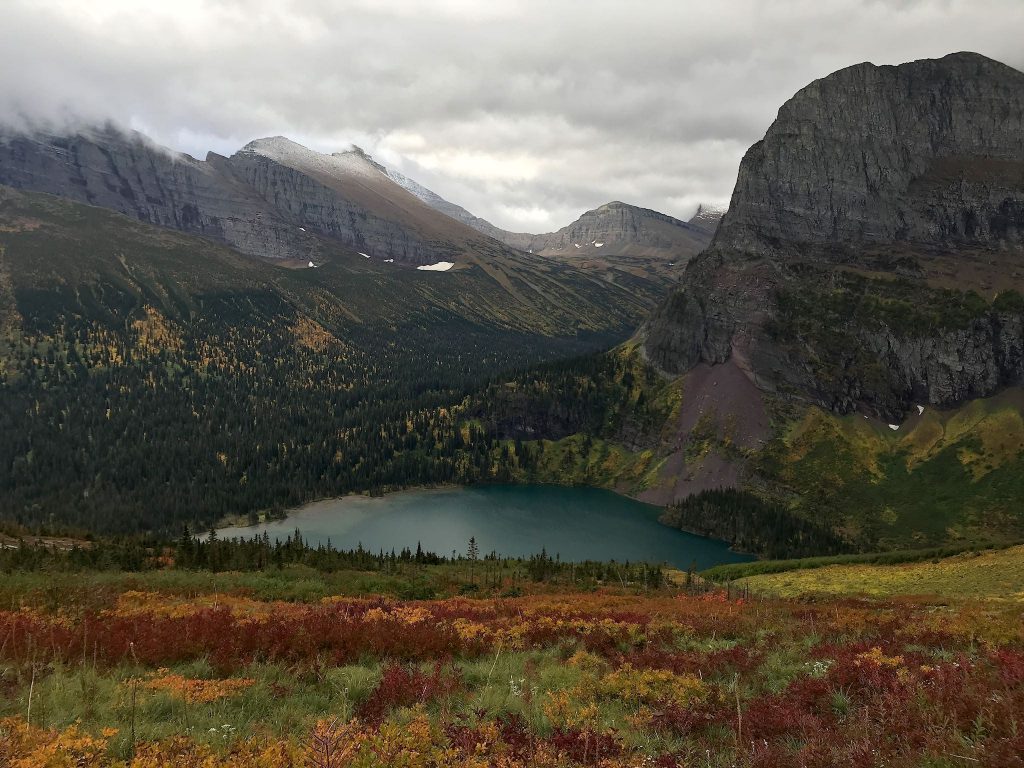 Once high in the Grinnell Creek Valley, we enjoyed muted, partially cloud-obscured views of the Grinnell Glacier, the Angel Wing, and Grinnell Lake. About half a mile from the end of the trail, our progress was halted by bear activity trail closure signs. We'd miss Upper Grinnell Lake. Oh, well… Although low clouds at the time obscured the summits of Mount Gould and The Garden Wall, our imaginations were fueled by memories of seeing both of these epic peaks from the other side last year while hiking the Highline trail.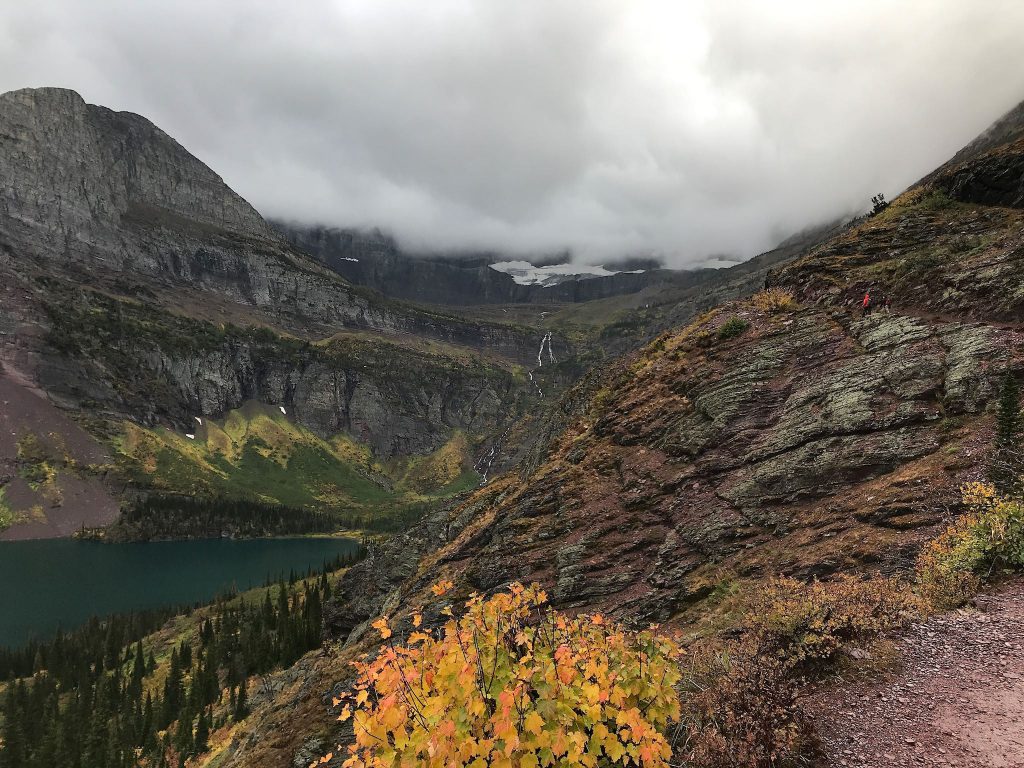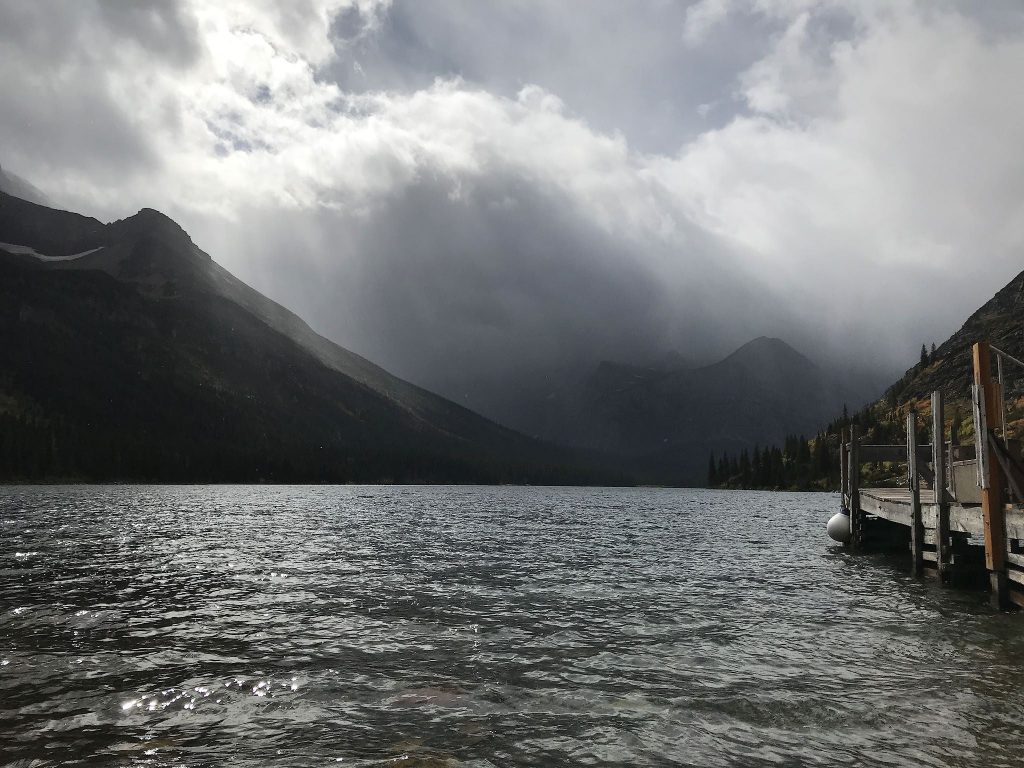 On our final morning at Many Glacier Campground we woke to partially sunny skies, higher cloud cover, and views of fresh snow on the peaks around us. Combined with the screaming yellow aspens and poplars and bright red, yellow and orange berry bushes lower along the mountain ridges, we marveled at the beauty of Glacier (US) National Park as we headed south. Still more to see on a future visit…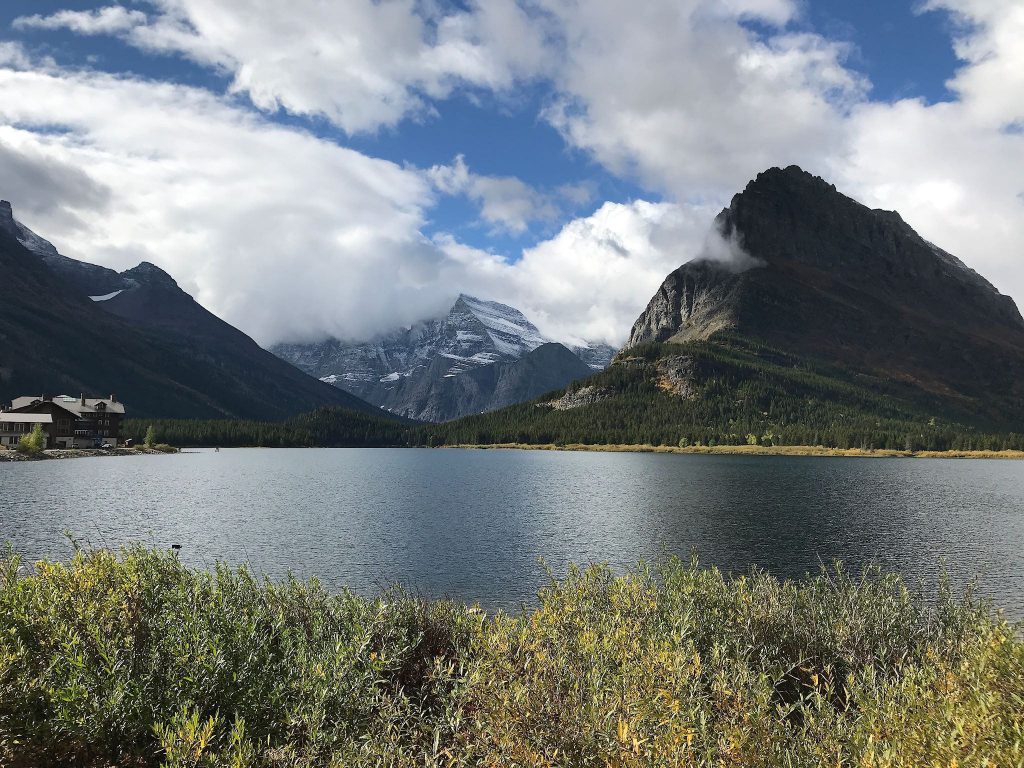 For those who are interested, more Many Glacier camp, Ptarmigan/Iceberg Lake hike, Grinnell hike pix…