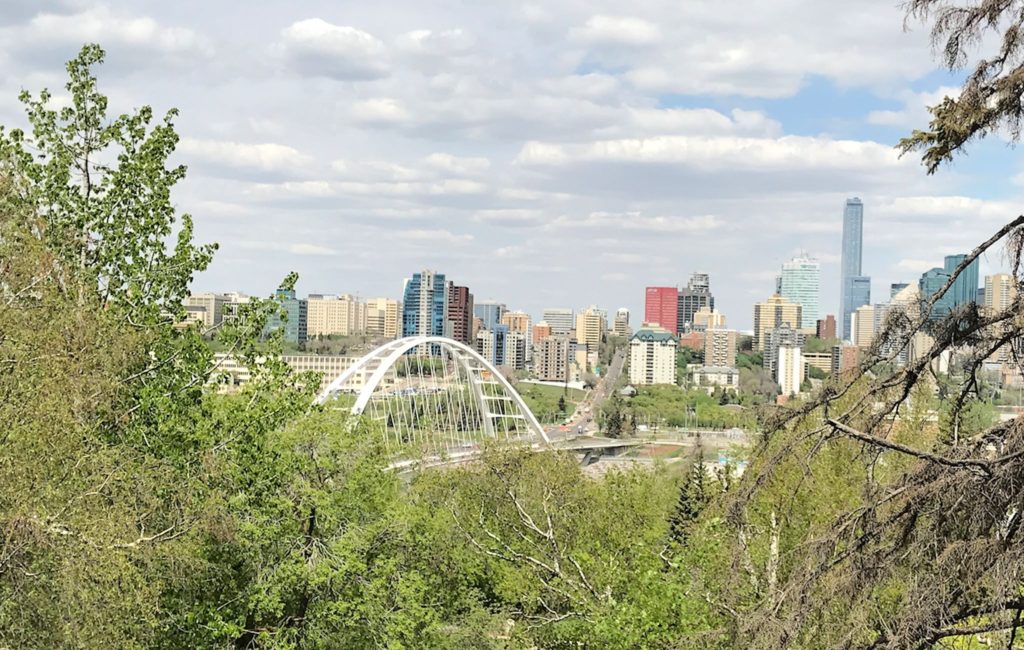 In an RV, hanging around somewhere is not really a big deal – we have everything we need to stay wherever we are, and it can be downright fun. Although we'd hoped to be closer to Alaska by now, we had to wait in Edmonton for at least another 2 days while our part made its way across Canada. Let's check out the city!
Edmonton, North America's northernmost city with a population over one million, is the capital of the Province of Alberta. Although it's in the prairie and the surrounding areas are flat to slightly rolling, the North Saskatchewan River flows from southwest to northeast through the heart of the city in a tree-lined ravine. Two chains of 25 contiguous city parks link together to form the largest urban park in Canada, spanning both sides of the river. The epic walking, biking, roller blading, and x-c skiing paths go on for hundreds of kilometers throughout the city. People from Edmonton really know how to play outside!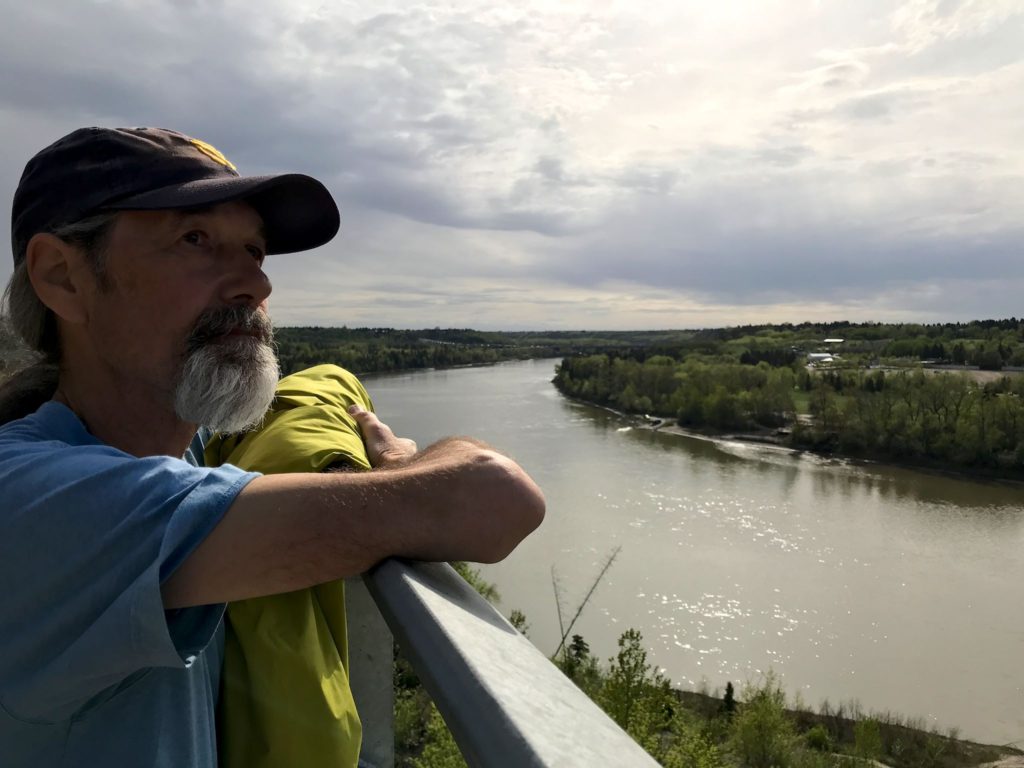 Hawrelak Park, one of the south side parks, turned out to be the ultimate urban trailhead parking for us – huge parking areas and central to all that Edmonton had to offer via its multi-use trails. Our first adventure was to check out these paths. We did a loop encompassing both sides of the river and the Buena Vista and Quesnell bridges, passing golf courses, the zoo, outdoor art installations, picnic areas, outdoor theaters, sports fields, small neighborhoods and lots of people (and dogs) generally enjoying a beautiful day in the parks.
A loop linking a few neighborhoods and downtown was the plan for our second adventure. We started with a walk through Strathcoma, the bustling residential neighborhood on the south side. It features lots of low-rise residences clustered around Whyte Avenue, a funky area with lots of small restaurants, sidewalk seating and shops. We poked around a few shops and found a surprisingly impressive guitar collection at Lillo's, a historic independent music store. This area is also home to the Strathcoma Streetcar Museum and the University of Alberta. We treated ourselves to a Mexican lunch at a sidewalk cafe and some serious people watching.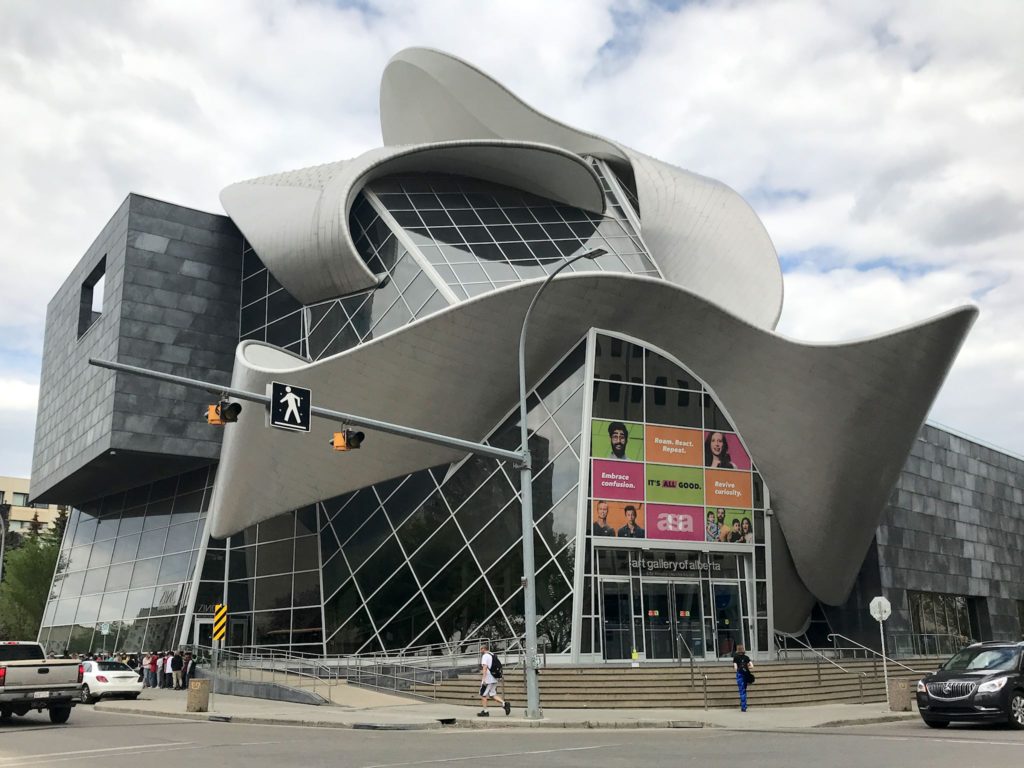 Crossing the Walterdale bridge, we walked to the downtown area featuring high-rise residences, the historic Alberta Legislature Building, a massive downtown mall, and the architecturally unique Alberta Gallery of Art. If tall cranes are an indication of prosperity, then Edmonton is surely booming. We made our way back over the historic High Line Bridge. Built in 1913, it was the first bridge in North America designed for 4 modes of transportation – rail, trolly, auto and pedestrian/bikes.
That these two Destinators, visiting Edmonton for the first time, could easily make their way around for two days using well-marked urban paths is a testament to exceptional park management. Kudos!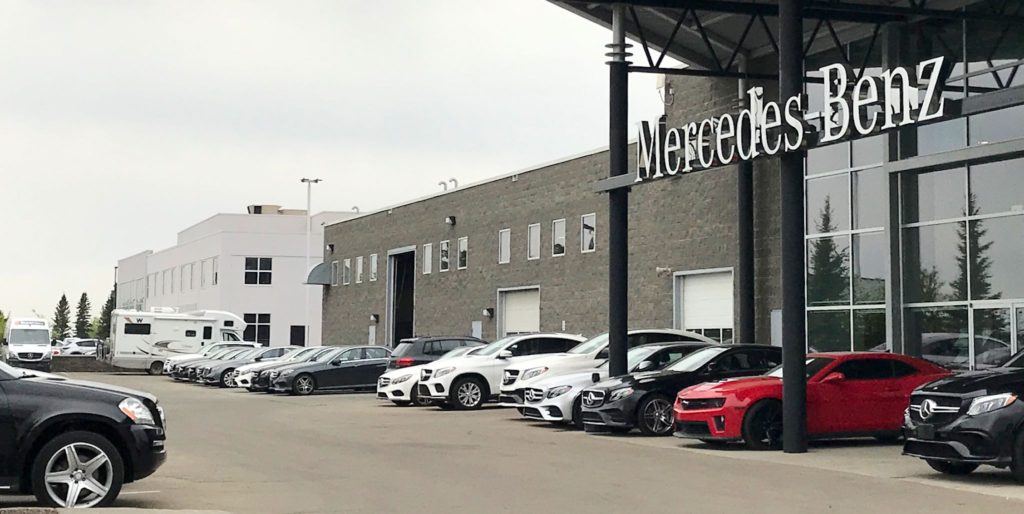 And where did we camp? Well, Mercedes-Benz Edmonton-West, being the northernmost Sprinter service center in Canada, are accustomed to travelers stopping by for repairs on their way to Alaska (and other points north), and they are not unaccustomed to hosting customers in their back lot. Yes, the part came in on time; yes, the repair was completed successfully.
And yes, we're back en route to Alaska.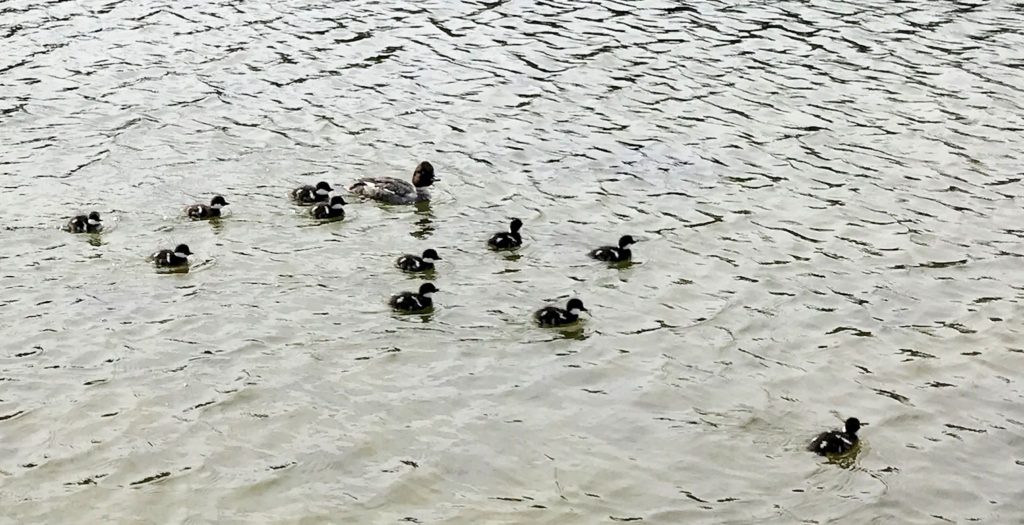 For anyone who's interested, more Edmonton and Sprinter service pix…