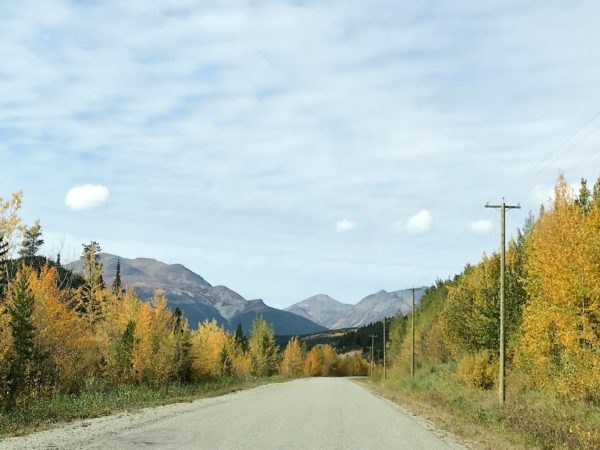 There are only two roads through British Columbia that will get you to or from Alaska – the Alaska Highway and the Cassiar/Yellowhead Highways. We came north on the first one, so we headed south on the Cassiar.
The Cassiar Highway is a relatively remote, 725-km (450-mile), paved, narrow, two-lane road through the Cassiar Mountains connecting Watson Lake (pop 1600) to Kitwanga (pop 400). The road mostly follows the river valleys and we were always within view of lakes and mountains of various shapes and sizes. Still, there were hints everywhere that there was more we weren't seeing… occasional, brief glimpses between the trees of high, snow-covered peaks and avalanche signs everywhere. Also, heli-ski operations in settlements like Bell II (pop a handful plus seasonals) and a brochure for Provincial Parks with glorious mountain photos and instructions for how to access them, by air. Hmmmm…
Nonetheless, we found the drive to be quite pretty, imagined what we couldn't see from where we were, and enjoyed a few remote campsites near lakes and rivers with great mountain views.
And then, there were the surprises…
Continue reading

"The Cassiar and Yellowhead Highways"