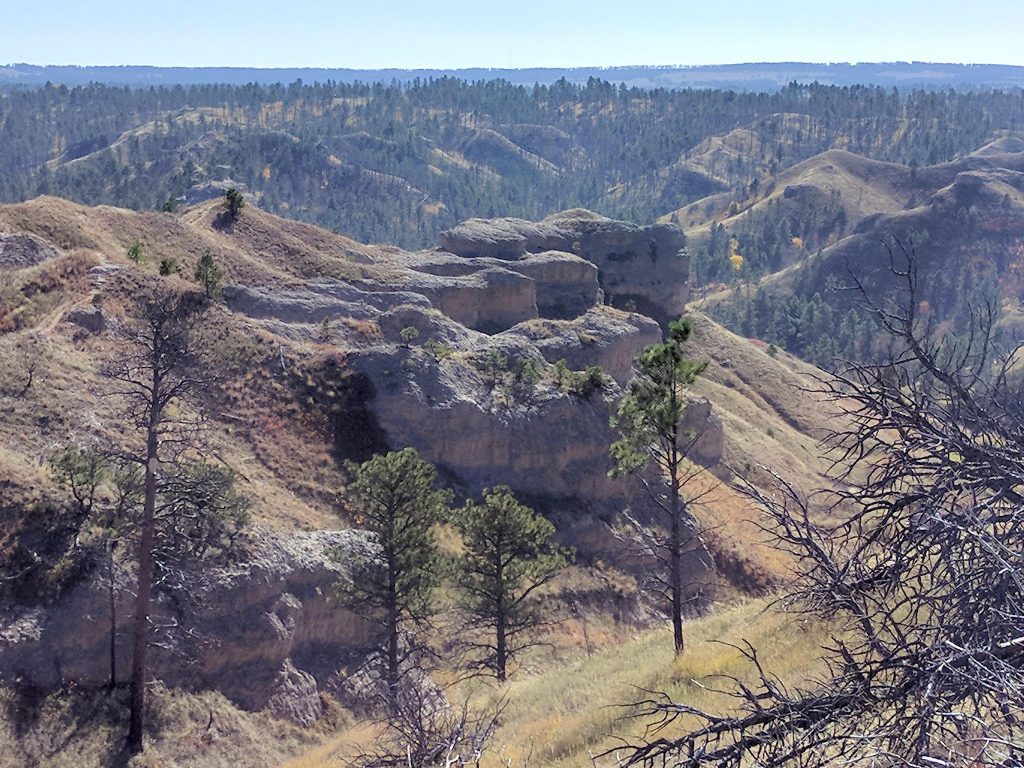 After our sprint through the cold snap, we wanted a day off to chill, read, play music and hike (ok, walk) somewhere with a view. In Nebraska. We set a course for a green splotch called Pine Ridge.
Who knew there was a 100-mile ridge of ponderosa-pine-forested buttes and canyons, looking much more like South Dakota than Nebraska, right here in Nebraska? Well, now you know. We shared a pretty and quiet campground ($2.50/night) with one other small RV, walking distance from Chadron State Park which hosts a network of trails that wind over, above and around the Pine Ridge.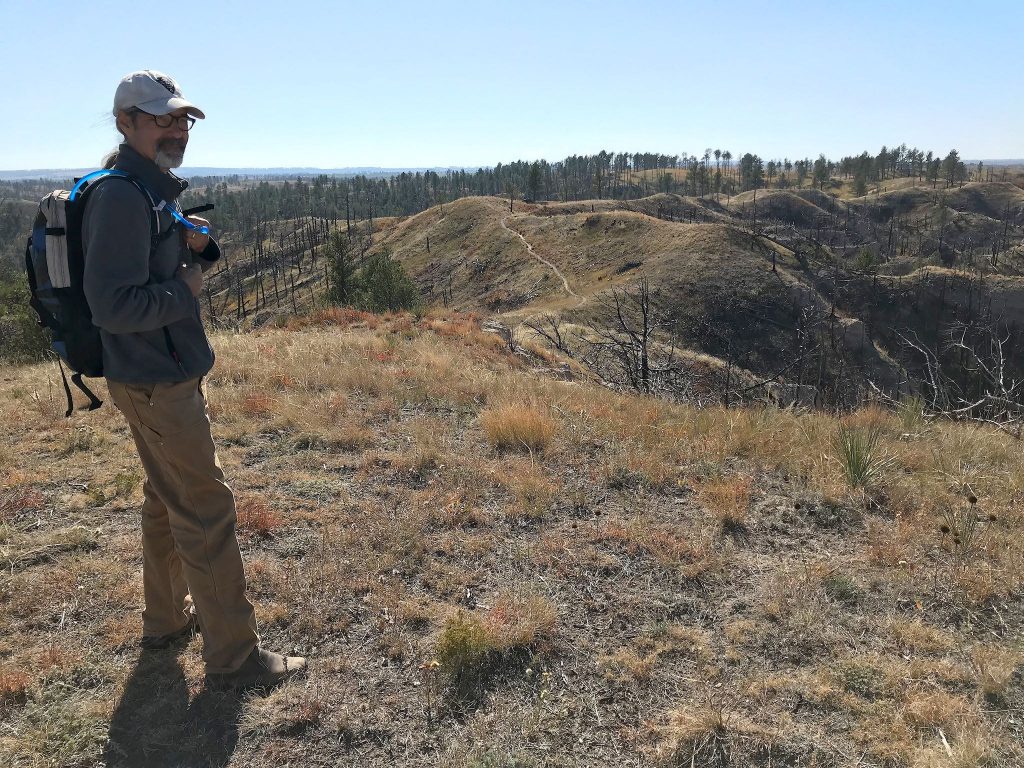 It was a gorgeous day for a hike – cool and clear. Near the Black Hills (SD) Overlook, we ran into another hiker. He had lived in Nebraska his whole life and absolutely loved it. His suggestion for our next few days was to travel east through the Nebraska Sandhills, in his opinion the prettiest part of the state. Squirrel!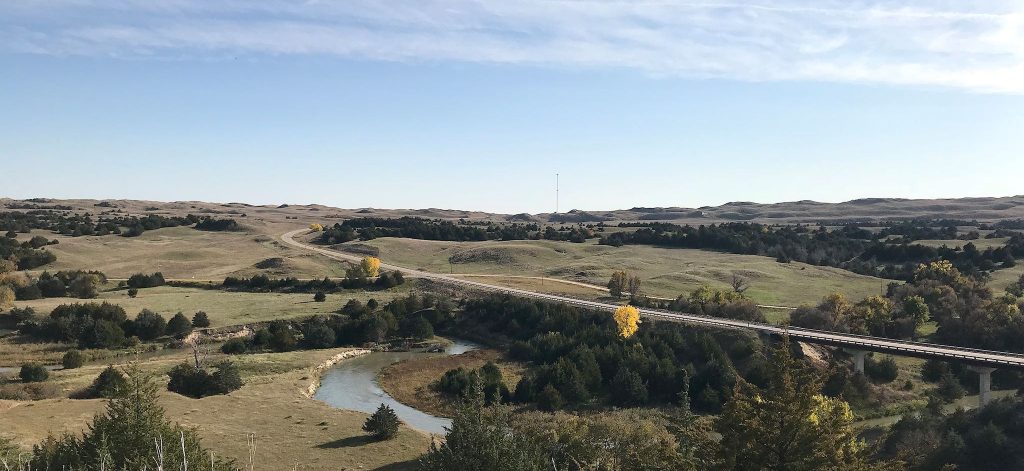 The Sandhills are grass-covered sand dunes that create a rolling prairie over more than 25% of north central Nebraska. Because the sand is useless for growing crops, the entire area is native prairie. The mixed grasses (known as short and long, I'm not making this up) are gorgeous! In the fall, they range from golden to shades of brown to copperish and bronzey, interspersed with occasional splotches of reddish bushes, dark green pines, black cattle and a very occasional, screaming-bright-yellow cottonwood.
Railroads are a big part of Nebraska's history and economy and many people here love trains. Campgrounds boast of being near the railroad tracks and reviews of said campgrounds give extra points for being able to hear train whistles all night. For ourselves, we moved well away from the tracks to find a cute town campground in Stapleton.
It took a couple of days… We both realized at the same time that the grass in the Stapleton town park was green, a color we had not observed since April. Hmmm. I looked it up – Stapleton was 40 miles west of the 100th meridian, the dividing line between the arid and humid climates in the US. Having spent so much of this adventure in arid climes, we felt smug with our newfound awareness.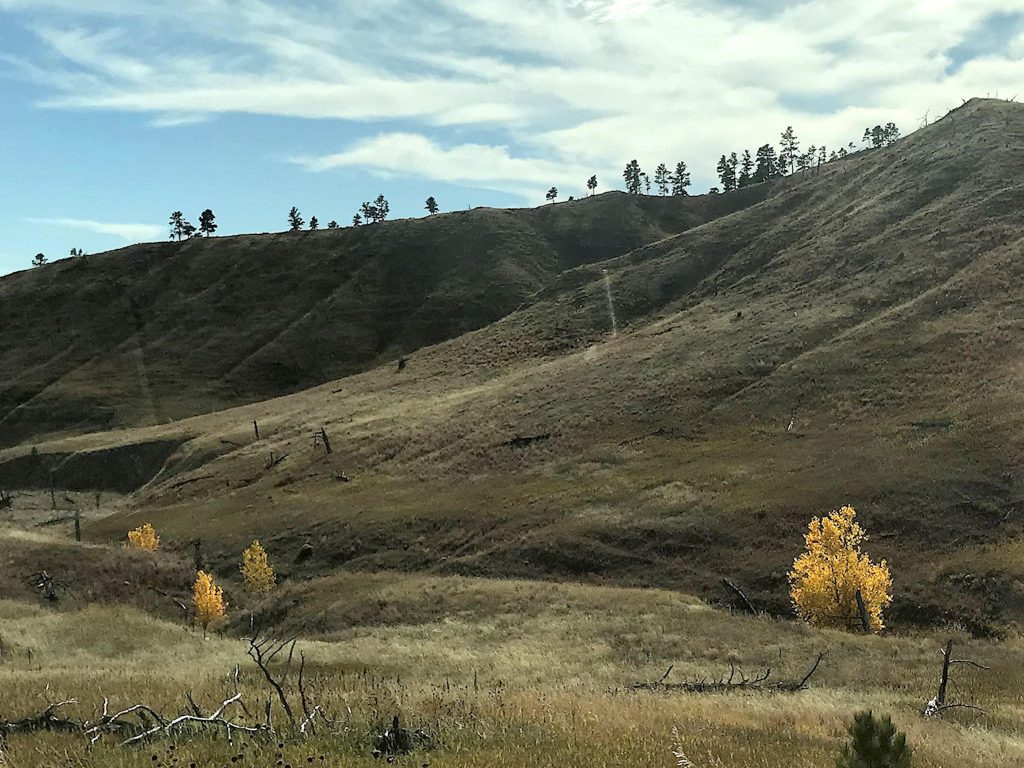 For those who are interested, more western Nebraska, Pine Ridge, Sandhills and Stapleton pix…